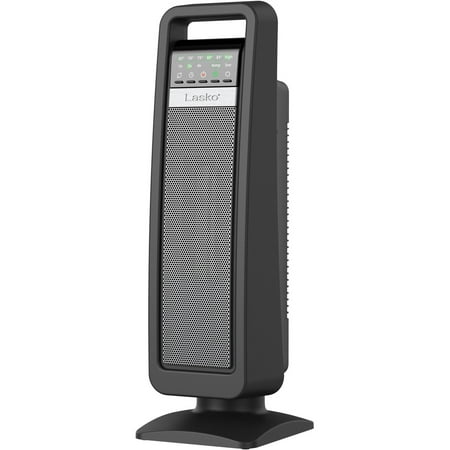 Stay cozy inside during the colder months with the Lasko Ceramic Tower Heater with Save Smart Technology. It is convenient for use in any home or office setting. This Lasko tower heater has an elongated heating element. It provides penetrating air velocity and widespread oscillation for total comfort. The Lasko space heater also features a 7-hour timer and two quiet comfort settings. All of these can be controlled at your fingertips with its multi-function remote control.
Lasko Ceramic Tower Heater with Save Smart Technology:
Provides effecting heating for most rooms in your home
Elongated heating element
Penetrating air velocity
Lasko tower heater offers widespread oscillation
Save-Smart Technology
Lasko space heater features a 7-hour timer
2 quiet comfort settings
Multi-function remote control
Generates all-over warmth for complete comfort
Safe Ceramic Warmth engineering to offer peace of mind
Keeps you warm and cozy inside as the temperature drops outside
Portable and made for use in any home or office setting
reviews
This was the perfect heater to get when I was having problems with my furnace. It heated up a room very quickly.
Does a good job to knock the chill off. Not strong or large enought to heat a room.
Easy to use, not parts to handle, heats up right away in large area room.
I love it. I keep it in my daughter's room on temperature setting and it turns on and off according to the setting. It keeps the room warm. It's not my first Lasko. I use the other one in my bedroom. And it works get too.
This is a good heater to set next to. I may not heat the whole room but it is great for direct/immediate heat which I need when watching TV, using my laptop, or playing video games!
Last year I had purchased a similar Lasko tower heater ( this one: http://tinyurl.com/jdrb7ww ) that's slightly smaller, costs less, and was and still is the best heater of its type I've ever owned. This year I decided to buy a second heater so I'd have one for another room. The store was out of that particular model in-store, so I opted for this one as it was only about $10 more than the one I wanted. It just doesn't seem to get the heat out as far into the room as I had expected. If I have it a couple of feet away from me and directed at me, it's great (but, of course, anyone else in another part the room isn't going to feel very warm). Also, it's a bit noisier than my other Lasko model. It sounds a bit…..I don't know……..rattly or rickety or something. That could be annoying under most circumstances, but it doesn't really bother me too very much because it drowns out sounds outside, such as neighborhood kids screaming as loud as humanly possible for no apparent reason, and can almost drown out the cacophony from the 11-year-old kid 2 houses down who has a drum set in the garage that he bangs around on talentlessly for an hour or more with his garage door wide open. However, the extra bit of loudness of the heater motor probably wouldn't appeal to a lot of people, though. I have to turn the TV up a little in order to hear it whenever this heater is running, but that's an acceptable tradeoff for the pretty good job it does at making the l'il screamers and the extremely annoying sounds of that kid with the infernal drum set less audible when I'm trying to sleep (I work nights). Back to the heat output now: Like I said, it's nothing special and is inferior to other Lasko heater. The remote control that comes with it is a nice touch, and the back of the heater has a nice little notch where you can attach/store the remote for when you're not using it. All this heater needs is to get the heat out further into the room and maybe run a bit more quietly for people who aren't using it drown out other sounds.
Lasko tower ceramic heat is the best heater we ever had, the heat that come out this heater is unbelievable, if anyone need a heater buy this one i have 3.
BEWARE: several people are reviewing the wrong item. This item number CT22422 DOES have a digital display and control. The picture here is incorrect, it does not show the numeric display. One incorrect review says that it does not have digital display, that the setpoint is increments of 5, etc… that is NOT TRUE. This has increments of 1 with a digital numeric display. The problem is that it heats up fast and puts out tons of heat… but the controller doesn't report the correct room temperature. I set it to 72 and it just keeps going…. within a short time, my room is at 90 or 92 degrees and the display on this always shows 64 or 66 for the room temp. As soon as I touch a button to change the setpoint up or down by 1, it immediately "updates" and shows the correct room temperature. So, when it is over by 20+ degrees, it turns off the heat. And then the room will cool down to 58 degrees and this is still off (while still set to 70 to 72 degrees). As soon as I adjust it by one again, it turns back on. The cycle repeats. Also, on ours, the HIGH & LOW button shows HI or LO on the display, but the output and sound of this doesn't change at all. We've exchanged this Twice and all three units have done exactly the same thing. This time we will get a refund, taking this third one back today.