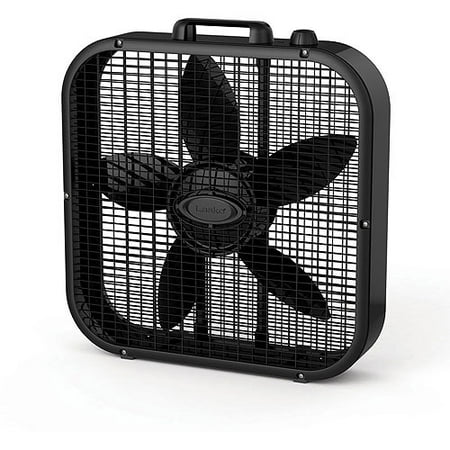 This whisper quiet Lasko B20401 Decor Colors 20″ Box Fan creates cooling cross ventilation in small or large indoor living areas with its five-blade design. It is constructed with rounded exterior corners for added safety and style. The slim silhouette of this black box fan allows it to be placed almost anywhere. It is lightweight with a securely attached top mounted handle for easy transportation and lifting. This Lasko box fan also includes low, medium and high speeds that permit individual comfort control and with the integrated Save-Smart feature, it cost less than 2 cents per hour to operate. It includes removable front and back frames for stress-free cleaning of the interior blades and grills. The Lasko B20401 Decor Colors 20″ Box Fan comes fully assembled and ready to use with a patented fused molded safety plug that fits any standard household outlet.
Lasko B20401 Decor Colors 20″ Box Fan, Black:
Slim 20″ box fan provides high volume air movement
Save-Smart design costs less than 2-cents per hour to run
Safe, rounded corners
Top-mounted control knob with three quiet speeds
Lightweight design and easy-carry handle for portability
Lasko box fan comes fully assembled
Patented fused safety plug
ETL listed
Color: Black
1-year limited warranty
Warnings:
California Proposition 65 Warning: WARNING: This product contains chemicals known to the State of California to cause cancer andbirth defects or other reproductive harm.
reviews
Perfect size to fit in window. Powerful but not too loud.
Good quality and powerful fan… For the cost, you can't beat it.
I have been wanting a black fan for a long time, finally found one! I have a black long-haired cat and her hair is always getting caught in the front and back grill as well as on the blades, this made it necessary to take the fan apart and clean it every 2 weeks, now it doesn't show, so I will only have to take apart and clean them every couple of months! They are kinda noisy, but normal for a box fan. This fan cost me $5 more than the white fans, but all in all I fell it was worth it to have a black fan. I would have given it 5 stars if it weren't for the higher cost…
Fan does a great job cooling off a big room, especially with this summer heat (and no air conditioning). It can be a little loud at a higher setting, but the strong air it generates far outweighs the sound. Great buy. Really recommend it for a den or family room.
Bought this fan to stay cool this summer and fall, it does a really good job. Which i was surprised because it was just a cheap box fan, but it works amazing. We bought two. One stays in our room, and is on for about 8-10 hours a night. and the other we have down in our basement and its been running NON STOP, 24/7, since june (it is now september)
I have several Lasko products. The 20-Box-Fan worse as designed. I recommend the fan. Condition of the shipped (FedEx to Walmart) fan was not good. Shipment received had a broken plastic piece. After unpacking the fan, I noticed the broken part. I would have returned the fan, however, mileage and time made returning the item not worth while. I will probably not order items from Walmart again. This was the second item damaged in shipment. I shop in store at Walmart several times weekly.
For quality ventilation in any indoor area, the Lasko B20401 Decor Colors 20 In. Box Fan - Black is a great choice.
Circulate air throughout your bedroom or living room with this Lasko Decor Colors B20401 box fan, which features top-mounted controls with 3 fan speeds for easy adjustment. A built-in handle provides ...