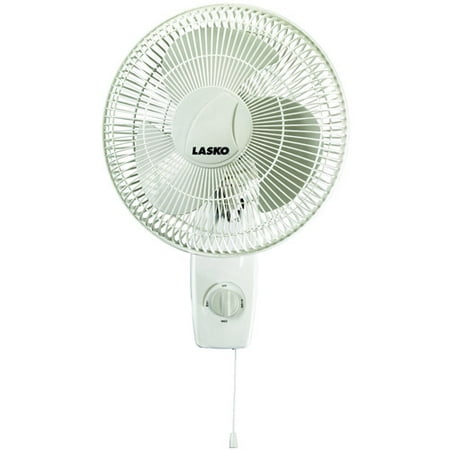 The Lasko 12″ Oscillating Wall-Mount Fan is ideal for health clubs, classrooms, stores, offices and homes. It offers noiseless smooth operation that will leave you cool and happy. This whisper-quiet fan has an impact-resistant plastic construction, making it highly durable and easy to rely on for long-term use. The installation for this fan is hassle-free with the included mounting hardware. There is a three-way pull cord that will control the optional oscillation and also allows for installation at higher levels. The Lasko wall mount fan comes equipped with a removable grill for easy maintenance and cleaning. This fan has a rear cord storage area for your convenience.
The white color will match most any decor, bringing functionality and style together. Let this fan add comfort to your room while providing the sleek style you need.
Lasko Products 12″ Oscillating Wall-Mount Fan:
3 whisper-quiet speeds
Optional oscillation
3-prong, grounded plug
Space-saving, whole room comfort
Head-tilts for directional cooling
Whisper-quiet fan has a durable, impact-resistant plastic construction
Rotary and pull cord controls
Rear cord storage area
Removable grill
Easy to assemble; no tools required
ETL/cETL Listed
Color: White
Model# 3012LASKO
reviews
Have no yet installed on walls in spaces where I will be using them, but they are exactly what I have be looking for, so will let you know when they are up on the wall.
This fan does the job, is made entirely of plastic except for the mounting brackets. installs easily and the pull cord is great when it is mounted higher on the wall as we did. one of the two we bought has a rattle when running.
I purchased this fan to circulate the air in a room where my wife grooms little dogs. I mounted it on a wall. It is supurb.
This is good to get some air movement in a small bathroom or laundry room that has no window, it can be mounted up high enough that it is out of the way, you hear a humm when it runs but no louder than most other fans. The plastic housing comes apart so you can wash it. The mounting hardware was terrible, the screws are too short and the fan motor is quite heavy so we purchased different more sturdy anchors.
This is my second fan whereas I left the one in Florida when I sold my house. Four years and going strong for the first one which I ran everyday most of the day! Just ordered another for my new apt bedroom in PA.
Got this fan for my elderly parents small bathroom. My dad easily installed the fan on the wall and it works great. The fan is great for small tight areas.
I purchased 4 of these fans. They were easy to install and work great for ciriculating air. I plan to pruchase 16 inch fans for larger rooms.
This fan does not serve its purpose in offering airflow during heated conditions. The currents produced at the highest setting is minimal and provides little relief even when its positioned right infront of you. I have not been able to mount it yet so I cant speak for that feature but I imagine that once it is on the wall the air flow will be much more insignificant. I love the concept but the functionality is extremely poor.