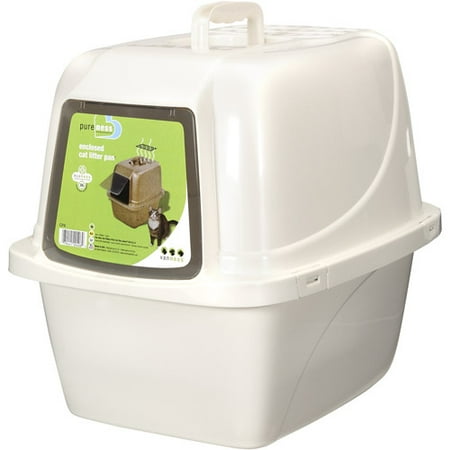 This large enclosed cat pan controls odors and prevents cat litter spills. Designed from unbreakable high-impact plastic, it easily handles both the weight of your chosen litter and your cats. The enclosed cat pan features a bottom pan and a removable top. Four latches lock the top in place. A transparent entry flap allows felines easy access while keeping odors inside. The Zeolite filter absorbs smells and freshens the air. This large cat pan is stain-resistant and very easy to clean. Lift it with the sturdy carrying handle to move the entire unit to another location.
Enclosed Cat Pan:
Top and bottom pan
Assembled: 19 1/2″x 15 1/4″x 17″
Unbreakable high-impact plastic
Stain- and odor-resistant
Easy to clean
Odor door
Odor-absorbing Zeolite filter freshens air
Convenient carrying handle
4 latches lock from top to bottom in order to hold cat pan liner in place so cat litter won't spill
Colors of enclosed cat pan may vary, you will receive either blue or white
Reviews
I got this, and honestly with my youngest cat, I'm impressed with it. The only problem is it doesn't stay fasten tightly and the top comes off so easily, but otherwise it is a deep litter box for a kitty who likes to kick it everywhere. I love the door, and how it doesn't let much of the kitty smell out of the box. However, if you have big cats, especially tom cats, or senior cats, it's not the biggest or most suitable box for them. The door is small, and so is the width of this box. It's okay for cats who are smaller, and cats who are younger that can jump to get in without hurting their hips. My senior cat is having that trouble, plus he is a big cat compared to most cats and barely fits in the door.
This box is ok if your cat is not too big. The size is more like a big medium than a large. So if you have a 20 lb cat get something bigger. Probably best for those with one cat not for multiple cats since not all that big. Mine didn't like the door but that comes off easy
Never thought a closed box would make such a difference or that he would even use it but it only took a couple hours and he was right in there with no problems. I have to remind myself to make sure and check if it needs cleaned no smell what so ever and he can be a very stinky boy. I also bought the Aspen litter mat with this and they work very well together. I use sifter bags and no problems with the lid going on in fact makes the latches fit better, had it on backwards then once turned around not much problems I did trim door (my preference) a little so door would move better due to the bags. Would so recommend this to a friend or anyone with a cat
I was looking for the basic hooded litter box. Nothing fancy but deep enough for the litter & the cat. Does the job, easy to clean, not huge or some goofy shape. If you want the basic box that does the job. This is it.
Nice pearl color. Small enough for tight spaces but not too small for a big 22 lb cat 🙂 love them.
They were both broke when arrived the snaps on the box were missing and broke shipped in plastic paper sack not a box like usual do not buy on line
This jumbo scatter less lock-n-litter pan is perfect for big bunnies and other pets in a large cage. Made from stain and odor resistant plastic, pan features a wire floor panel to keep messes in. Meas...