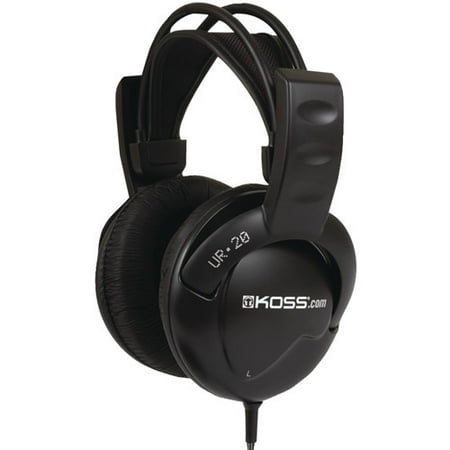 These Black Koss UR20 Headphones are a wonderful way to listen to your favorite music. Equipped with leatherette ear cushions, they deliver maximum outside noise isolation for your listening pleasure. Featuring an impedance of 32 ohms combined with a dynamic element, the headphones provide a clear, crisp sound at many different frequency levels. These over-the-ear headphones are built for durability and have a 3.5mm plug as well as an eight-foot cord for user convenience.
Reviews
I've been using these headphones for several weeks now and I use them on a daily basis from guided meditation, webinars to music. I really enjoy them, the sound quality is great and clear. The headphones fit comfortably even with my glasses on. Super great product for an amazing price I'm very impressed, the headphones also arrived earlier than scheduled. THANK YOU very much I'm very pleased with this product :-))
I admit I was a bit skeptical, but these are an amazing pair of headphones for a great price! They're incredibly comfortable, and they provide great sound! 10/10!
I bought them for video gaming on my pc, but it is awesome for music also. Great bass & highs. You will be hard pressed to find better sound anywhere near this price range.
Just wait til' you break them in! Great sound! But remember if you are hot natured! They are over the ear with no ventilation! I kept my old on ear Sony's just in case im hot & sweaty.
I wasn't looking for anything fancy. Because my husband is hard of hearing, I just needed a nice set of headphones for him to use while watching TV when he didn't want to disturb others with the volume of the TV. This works perfect for him They are comfortable and adjustable to the point that my grands can use them as well.
I previously had a pair which I broke so HAD to get another. The sound is awesome and I prefer the over the ear style to drown out exterior noises. Highly recommended, especially for the low price. Sounds just as good as expensive ones to me.
A little too big for my head but absolutely great sound to cancel the office chatter in my surroundings in my office.
Yes I would recommend this item, because my grandson is happy with this product. He is into name brand things, but he told me that they were great and no one can hear it when he plays them loud. If he loves them then I loved them.
TV speakers, shoddy earbuds, cheap speakers. Any of them would be better then these are. Want to get them to prevent sound leakage? They don't cup tight enough so most of the sound leaks out anyways. Want to actually hear anything? These are far quieter then they should be as well as not blocking outside sound enough to matter. Just want to listen to some music? Prepare for it to sound muted and just generally terrible. Don't bother with these, they aren't even worth the shipping cost much less what they're asking for.