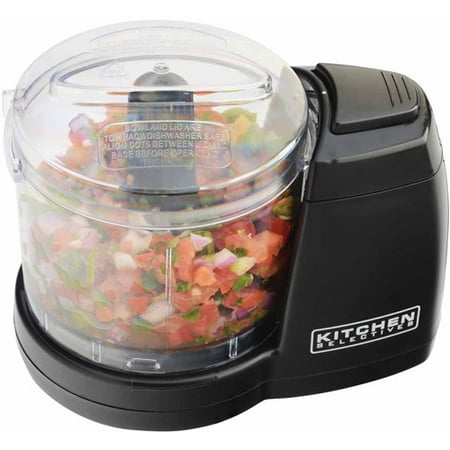 Use this in your kitchen to make great food. Mini chopper1-touch operationDetachable chopping cup
Kitchen Selectives Mini Chopper, Black, Black:
Mini chopper
1-touch operation
Detachable chopping cup
Non-skid feet
Stainless steel blade
Safe-locking lid
Dimensions: 6.80″L x 4.59″W x 5.30″H
1-year limited warranty
Model# MC-6BL
reviews
This is going to be a gift for someone but I already have one and love it . It is very efficient and handy in the kitchen.
Not good. I had to return it at the store. It did not work at all. And then they only gave me a credit for $7.99 and not what I had paid $9.99 because I had purchased it on line. Very bad experience
I had a little trouble getting it to run at first but after checking the bookletitranfine. Love it
Great value for the money! Works great! Everything I would want and more in a small appliance!
While this electric chopped is very neat & compact, it only has one speed and the container is very small–only holds approx. 1.5 cups of liquid. I prefer my previous Rival Mini Chopper. I dropped & broke the plastic container; otherwise, I would not have replaced it. The Rival company does not make a replacement container; U have 2 buy a whole new chopper which I did, but by another manufacturer as I was extremely annoyed that they did not have a replacement container. I am sure that will B true of the lower-end machines across the board. Today's obsolescence practices really disgust me!!!
I purchased one of these years ago and one of my kids dropped it. I liked it so much I bought another one. People complain about the difficulty of having it in the right spot and lock it in position for it to work, but it's really not that difficult to understand. If it is locked into the right position pressing the button is very easy and should not break.
Sleek, compact, and easy to use. Unfortunately, the bowl and bowl top did not make a proper seal and the bowl leaked. I tested this product with a quarter cup of water which spurted all over the counter. If it had been oil or a marinade it would have been a real mess to clean up.