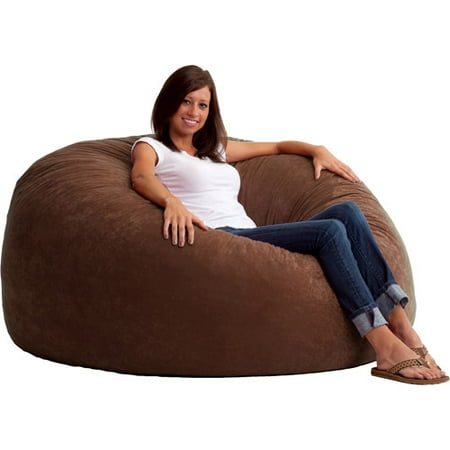 The King 5′ Fuf Comfort Bean Bag Chair brought bean bags out of the 1970s and into the bedrooms and dorm rooms all over the world. It features the patented memory foam that is super soft and long lasting. You can also re-Fuf this foam for custom convenience. Spend five minutes on a Fuf and your body will thank you for it. A convenient seating option, this suede bean bag chair can be placed on one side for a lounging position or can stand upright to give that extra support to your back, just in case. The brown bean bag chair is a practical and smart addition to any room in your home and that includes your basement too.
King 5′ Fuf Comfort Suede Bean Bag Chair:
Great for basements, bedrooms, dorm rooms or even the family room
Place it on its side for more of a lounge position or upright for more back support
Available in assorted colors and sizes
Filled with super soft and long lasting Fuf Foam
Re-Fuf again and again for custom comfort
54″ diameter
reviews
I love this beanbag chair. It expands quickly once taken out of the box and is easily big enough for me , my husband, and our daughter to all sit on together. I could easily sleep on it alone. So far no rips or tears and that's with adults falling into it and cats sitting on it.
It's awesome for those who cannot lay on the floor. Perfect for movies or curl up and a nap. Whatever the case may be. Well worth the purchase!!
This chair is a perfect chair for gaming.
While it is a bit lumpy with the foam blocks, it was very well used the minute the teens arrived. Very happy.
I love this chair, very comfortable. I am able to shape it and move it around to the way I want it. I bought it for a loft area where I wanted it to be comfortable for lounging and reading. I plan on buying another one.
I was considering getting the bigger one but 5ft is big enough! I originally bought this bean bag for my son but ended up we are all using it! It fits me and my husband in a snugly fashion. I love this thing. I may have to invest in another one for my dogs because they love it too.
The actual product looks nothing like the picture. It comes vacuum compressed and needs a lot of fluffing an kneading to break up all the lumps of foam. The instructions say it will need up to 5 days to expand. I had turned and fluffed it for 4 days and it was still very flat and lumpy , and provided no support. I didn't notice any expansion after the second day. When you sit in it you sink to the floor. The only way to sit in it upright is to put it up against the wall , and even doing that your legs are barely off the ground. It seemed as if it needs a lot more foam in it because the cover is still very loose. I thought this would be a cheaper alternative to the Love Sac, but its just a waste of time and money. I was able to return it at Walmart.