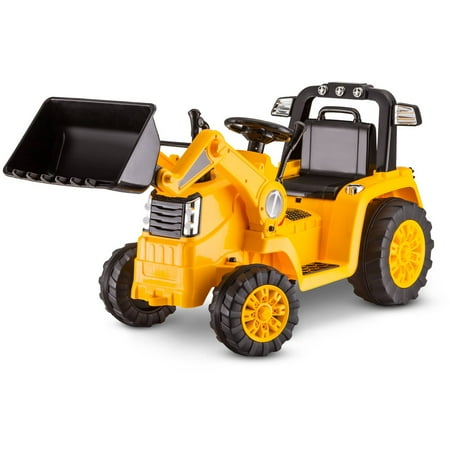 Help develop your child's imagination with the Yellow Kidtrax CAT Bulldozer Ride-On. It's powered by a rechargeable battery, so kids can spend hours learning to excavate and haul. The direct connect charging system makes it easy to get back to work. The 6V battery-powered ride-on tractor has a realistic design with a sturdy working dump bucket and rubber traction strip tires, which makes for an exciting experience as children roll across the landscape to pick up a load. The tires are designed to have a good grip on slick surfaces. The tractor ride-on has realistic foot pedal acceleration, so little ones will experience a fun ride. However, with a top speed of 2.5 mph, parents can be assured that it will also be a safe ride. The Yellow Kidtrax CAT Bulldozer Ride-On helps children live out their construction dreams. Let the building phase begin with your favorite toddler at the helm.
Kidtrax CAT Bulldozer/Tractor 6V Battery-Powered Ride-On, Yellow:
Age range: 3 years and up
Sturdy, working dump bucket with tractor ride-on design
Realistic foot pedal acceleration
Top speed of 2.5 mph
Power Trax rubber traction strip tires
6V rechargeable battery
Direct connect charging system
Official CAT licensed item
40-lb maximum weight
Dimensions: 135″L x 54-1/2″W x 65″H
reviews
It will only move on hard surfaces like a side walk or drive way, it doesn't have enough power to go in the grass, soft dirt or mulch and it being a bull dozer, it should. It needs to be a 12 to 24 volt. Modifications in the future would be highly recommended for this type of ride on. The three step assembly was quick and easy, especially with a 3 year old waiting patiently. It is easy for him to operate and doesn't go too fast. My grandson loves this
I saw where there was sound on this but when I opened the steering wheel cover there is a place for batteries but no connectors- I called customer service and she told me that the 6 V one does not have the battery capability, only the 12 V does. I asked if there was a way to purchase a steering wheel that had sound, she said no . My granddaughter loves it still – Now she has her own Kylie nun nun just like her( uncle) bub bub
My grandson LOVES this tractor/bulldozer! He can ride inside and outside! If there was a negative, it would be for more durable tires! He is worried that after snow melts, the gravel will tear the tires up?
Bought this for my little boy for Christmas. It is definitely too big for him but he was so excited Christmas morning when he saw it. Hasn't done much driving on it yet though so can't comment on that. Overall very nice ride on.
It didn't come assembled but it was very easy to put together. I'm very happy with the purchase.
After watching this video https://www.youtube.com/watch?v=2UxDR8SHDNg , we decided to buy this product. It is great and we have many hours of fun. We use this bulldozer to transport 25 bags of sand from the front yard to the back yard. It saves our back!
We have a son with Autism he turn five on April 7th. I order this item for his birthday. I order it on March 24 an received on April 5. As my husband was opening the box and take the item out. He notice that the battery was broken. So I call customer service, I was disappointed with the service. I did what the lady ask me to do. She need pictures of the item. An what I would like to be done. I told her all we need was an battery for the tracker. A few days had pass didn't hear anything. So I email once a day until I got answer. Insult to injury by offering me $10.00 on an item that was over $160.00 seriously!! I was so mad. I told them no. Your item was ship broken just do the right thing and fix it. Haventhe heard anything yet. You can't return this item to Walmart because it a second party. This is so sad!!
Kidtrax CAT Bulldozer/Tractor 6V Battery-Powered Ride-On, Yellow: Age range: 3 years and upSturdy, working dump bucket with tractor ride-on design Realistic foot pedal accelerationTop speed of 2.5 mph...