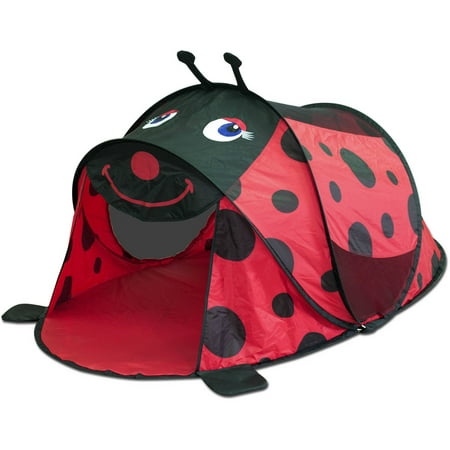 This Kids Pop-Up Tent sets up in seconds and is great for sleepovers and backyard play!
Kids Pop-Up Tent, Ladybug:
Easy setup
Easy to use
Hours of fun
Stores fast and flat
Great for sleepovers and backyard play
Polyester construction
reviews
Purchased this for my little ones to have a place when our older daughter has softball practice/games. They love opening it themselves and having their little space to play while I can watch the game. Great to have a small and easy tent to set up and store. Little tricky getting it to close properly but I got it down after the 3rd use. Holds up nicely so far!
I purchased this tent for my 15 month old to play with in our living room. It's very easy to fold up and store away at the end of playtime to make room for the next activity. It's roomy and oh so cute, too!
Product was exactly what I was looking for a 1 1/2 year old with no removable parts. The only reason I 4 starred it is that the instructions and getting it in the bag are not clear and it is more difficult than it looks.
We got one for each child, The ladybug and the frog, and it's perfect for each one to have their own space! It's big enough for an adult to fit inside with them.
This is our new "hangout" place. The cat loves it too.
So much fun. The kids had so much fun in the tents and tunnels we go for Christmas!! Giggles and fun all day! Impressive, fun gift. We had to watch YouTube to fold it but now we're experts. So happy w purchase!!!!
The whole process of ordering online in one state and having it picked-up in another state was seamless! Plus, the tent is adorable and perfect for a little guy who loves to camp out in his own house! Thank-you, Walmart!