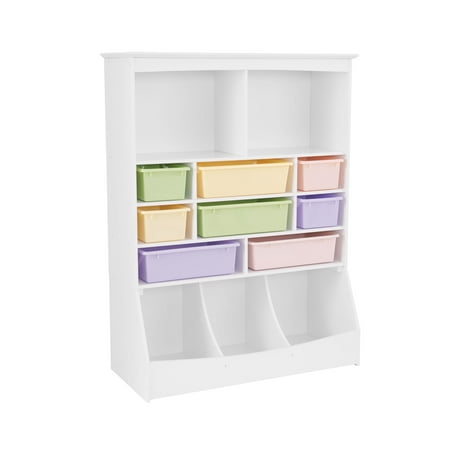 The KidKraft Wall Storage Unit will be the center of your play space! With plenty of shelves for books, removable plastic storage bins for small toys and expanded wooden storage bins on the bottom, this toy storage unit has a place for everything.
13 storage compartments
Eight plastic bins
Sturdy wood construction
Packaged with detailed, step-by-step assembly instructions
Directions:
Fabric Care Instructions: Wipe with damp cloth
reviews
Box came little damage but it's packed so well that no damage was done to unit. Easy to put together an overall it made a messy corner all organized an perfect for daughter room
This storage unit is perfect for my daughter's playroom! Its colorful and hold so many toys! Easy to put together-we made sure it's anchored to wall securely as well!
This unit is even better than I expected. The tools and hardware were packaged for convenience and each piece was labelled with easy to read stickers. The actual unit is very sturdy and only took me about an hour to assemble. My daughter loves it and it's a very nice touch to her room. I would definitely recommend this to anyone.
I debated between two and three stars on this one. It was delivered faster than the expected delivery which was awesome and it was the lowest price I could find on the internet. Yay! BUT It was a pain to put together. I've gotten kidkraft brand stuff before and I love the way they organize what you need and make it easy to follow the steps. Most of the time, the kidkraft brand seems better quality than most items you have to build yourself. This time was unfortunately different. it went together so poorly we took it apart several times to double check to see if we had mistakingly put the wrong piece in (they're numbered, and we didn't). We had to leave a whole back piece off because it was too big and lifted the little separator shelves so much you could see the wood pegs that connected it to the next shelf. Finally, the wall anchor it came with was a flat dull short screw that didn't even reach my wall. We ended up using our own screws to secure it. Why three stars if all that happened? Because the back piece we left off is behind the cubbies so you can't tell, because for the price, this thing stores stuff like a boss, because my kids love it, and because I'm not taking it apart for the one millionth time to send it back (well played kidkraft). Really though, storage furniture is expensive and even with the construction flaws it still ended up adorable, safe, and serving its purpose which is all we really wanted.
Expensive piece of junk. The pieces do not fit together correctly unless you do not want to use the anchors. If you are using it in your kids bedrooms it would be stupid to leave the anchors out.