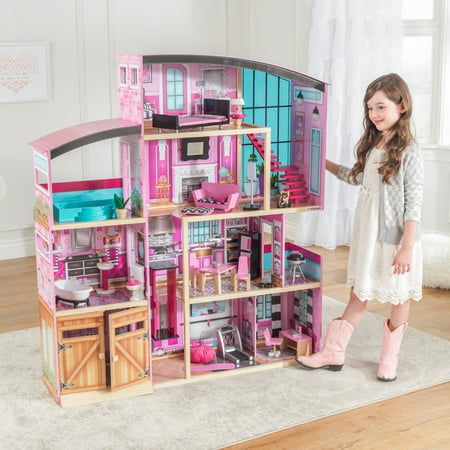 The KidKraft Shimmer Mansion is the perfect place for young imaginations to weave their own stories. The bright, four-level dollhouse stands over five feet tall and is richly detailed with working lights and a flushing toilet. For a personalized touch, kids can mount a framed mirror on the wall, or insert their own works of art to proudly display. Each of the nine rooms offers a unique backdrop for all kinds of stories. A stylish pink elevator smoothly glides up three stories to the den, where an attached balcony spa awaits. A modern staircase leads to the towering bedroom loft for a breathtaking view. The 30-piece accessory kit includes hand-painted wood furniture and accessories for healthy living. A yoga mat and treadmill allow for fun exercise classes in the workout room while watching the modern flat screen television. Theres even a fresh bowl of salad waiting on the table. As kids practice healthy living with their 12-inch dolls, theyll learn lessons about the importance of a balanced lifestyle.
30 lifestyle accessories
4 levels, 8 rooms and an outdoor area
Accessories feature light and sound
Insert your own art into picture frame
For quicker and easier assembly instructions, download the free BILT App from the Apple App Store or Google Play.
Sturdy wood construction
Packaged with step-by-step instructions
Directions:
Fabric Care Instructions: Wipe with damp cloth
reviews
Bought this for our Granddaughter's 3rd birthday! Love all the rooms and accessories and it was easy to assemble! I did it all without my husband's help, (he was pretty impressed with that!) I know she's going to have years of play with it because of the quality material and the fact that it will certainly grow with her!
Pleasantly surprised at the quality. My 5 year old daughter loves it because of all the rooms. It keeps her occupied for hours. The dollhouse is huge!!!
I got this dollhouse for my niece for her Christmas/Birthday present. This doll house highly surpassed my expectations, it has so many rooms and furniture for each floor! This will definitely provide hours of entertainment for my neice so my sister can take care of the chours. lol but my favorite part of this house is the design that was out in it. GREAT JOB!!!!
This dollhouse is beautiful!! I am really satisfied with the product. It was packaged neatly and the hardware was labeled very clearly. The dollhouse is very sturdy once assembled and the design is adorable. All of the furniture is top quality and so cute. This is a gift for my Daughters (4 and 6) . It is of substantial size, so I'm hoping they will be able to play with it for years to come. I would highly recommend this product to a friend. Anyone out there who is searching for a doll house in this price range should strongly consider this one. It's a winner.

This dollhouse is a 4-story townhouse. It was a little heavier than I expected, which took me a couple of hours to put together. One screw not fitting well, so it spent me a while to drill a new hole. Amazing looking inside, the furniture looks wonderful but no barbies and I bought a few animals too. Comparing to other dollhouses I was looking at, this one is modern looking and much beautiful. This dollhouse is relatively tall too because of a 4-story building. The elevator inside looks interesting but a little bit hard to moving up and down. I received this product at a discounted price in return for my unbiased review.

I got this dollhouse for my nieces for Christmas—they've been asking for a dollhouse for months now. Because it's a massive size, I won't be putting it together until the night before Christmas, but I pulled out the pieces to check the quality—the walls & floors seem substantial & seem like they will hold up to my nieces well! I was excited to see the Bild video on how to put the dollhouse together–it seems fairly simple and I love having the guide. If I have any problems putting this together at Christmas, I'll add to my review. I chose this dollhouse because of all the different rooms….there is an elevator, a patio, a garage, an office, etc. I was looking at the Frozen house and the Disney princess house, but they didn't have the variety this one does. Just a note–this dollhouse is HEAVY. The box it comes in is about 60 pounds, so make sure if you're having it delivered somewhere other than home that you have someone that can help you carry it. I received this product at a discounted price in return for my unbiased review.
My kids (ages 3, 5, 7) and basically any other friend or cousin that comes over, boys and girls, ADORE this dollhouse!! It was a lengthy but easy assembly but absolutely worth it to see the kids' faces when they first saw it. Jaws dropped! It is so impressive! The furniture and designs on the walls are so cute, full of detail, and very trendy. My kids can't believe that the floor lamp turns on and the toilet flushes! KidKraft thought of everything! There is an elevator, garage that fits our Barbie cars, and everything from a pool room to an office to a gym, bedroom, bathroom, living room, kitchen, and deck! Pieces include a treadmill, charcoal grill, couch, ottoman, bed, kitchen table/chairs, pool, toilet, sink, yoga mat, flatscreen TV, ceiling fan, mirror, cat/cat bed/food dish, office desk/chair, laptop computer…..you name it! As the parent, I had so much fun unwrapping each piece- it made me feel like a kid again. My kids have added other Barbie accessories they have, such as kitchenware, and that works great. This dollhouse is such a wonderful backdrop for play and has facilitated hours of imagination and fun. We just love it!! I highly recommend this product!!