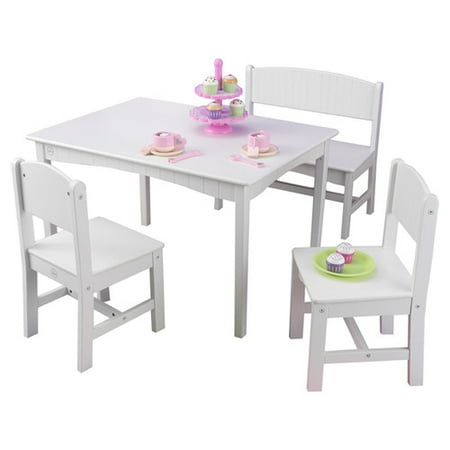 Siblings and friends can gather round the KidKraft Nantucket Table with Bench & 2 Chairs – Pastel to share in the fun of board games, tea parties, craft projects… maybe even homework. Sturdily constructed from pine and laminated MDF, this kid-resistant set includes a bench and two matching chairs to comfortably seat four children. Evoking the refreshing simplicity of a summer vacation at Cape Cod, the charming wainscoting detail complements the set's basic design and soft pastel hues.
Chair Dimensions 11.75L x 11.5W x 23.25H inches
Bench Dimensions 23.62L x 11.62W x 23.5H inches
Table Dimensions 31.75L x 23.5W x 19.62H inches
KK1474
Features
Made of wood
Sturdy construction
Cute looking chair set
Table Top Finish: White
Table Base Finish: White
Table Top Material: Wood/Other
Table Base Material: Other/Wood
Number of Items Included: 4
Pieces Included: 1 Table, 1 Bench, 2 Chairs
Dimensions
Table Height – Top to Bottom: 19.75″
Table Width – Side to Side: 31.5″
Table Depth – Front to Back: 23.63″
Overall Product Weight: 42 lbs
Specifications
Commercial ONLY Certifications: Yes
Commercial OR Residential Certifications: Yes
Warnings:
California Proposition 65 Warning: WARNING: This product may contain chemicals known to the State of California to cause cancer andbirth defects or other reproductive harm.
reviews
This is a great setup for a little girl. It's pretty sturdy, but I used some wood glue with the dowels as well when I put it together. It should last a long time. Easy to assemble, and a nice size. The corners of the table are rounded off so they aren't a big danger, and my daughter uses this furniture all the time for Duplo legos and etch a sketch, etc… I can't figure out why it comes with 2 chairs and a bench, and not 2 benches or 3 chairs, but we have other little chairs if needed.
My daughter-n-law says this is very nice and my granddaughter loves it! I had it shipped directly. I got it at a great price too!
Very nice and easy assembly….cute addition to a playroom or bedroom. Granddaughter is very happy with it.
My kids love this set. Well made, easy and quick to assemble. The only downside is that I put this table andbchaira set on carpet and find that the chairs tip over – they're very light and just topple when the kids get off of them
This table set is great, it's solid and the bench is a nice feature. My granddaughter loves it!!!
I love this little table! I was looking for something that my 6-year-old could do homework at and also big enough for the two to do arts and crafts. I was worried it would be too small for my 6-year-old, but actually it's perfect–the bench really helps for size!! Great quality too!
This little table was better than what I expected. It's very sturdy and well made. I would highly recommend this table and chair set. It's a great purchase at a very good price.
I got this for me kids for Christmas of 2015! not even 4 months later it started falling apart. The screws came out and the table legs just dangle there now because the screws don't fit right anymore. the backs off the bench and green chair have broken off while my kids were sitting in them.. I wish I never bought this table and now 5 months after buying it I'm looking for another table for them.