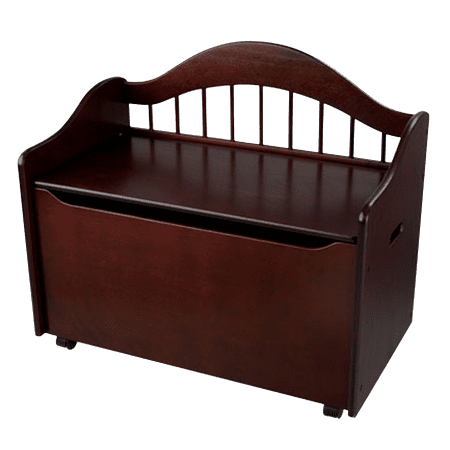 The elegant KidKraft Limited Edition Toy Box is an elegant addition to any kids room or nursery. With simple lines and subtle curves, this sturdy toy box is built for safety. A unique safety hinge prevents the lid from dropping to help protect little fingers, and the casters make it easy to position for maximum aesthetic value.
Safety hinge prevents lid from dropping
Doubles as a bench for extra seating
Available in white, black, natural, cherry, honey and espresso
Sturdy wood construction
Packaged with detailed, step-by-step assembly instructions
Directions:
Fabric Care Instructions: Wipe with damp cloth
reviews
We bought this toy box for our granddaughters first birthday. We were hoping that it would be of high enough quality that she could use it for years and the product didn't disappoint. It's very solid and has many nice features. It was a little bit of a challenge to put together, but the instructions were very clear and organized. We highly recommend this product!
Easy to assemble and safe for children
Very good and sturdy toy box but the instructions could have been more easier to understand.
Very pleased with the toy box. It was easy to assemble. Toy box was bought for our granddaughters toys, books, etc. We chose the honey color and love it. The color works perfectly with other furniture items. It has ample space for our purposes.
I just got the chest a week ago. Delivery was quick. Bought this for our 2 grandchildren, (both 2 years old).to put their toys in when they are at our home. I love the fact it is on wheels, has safety hinges and doubles as a bench. Our grands now have a place to store their toys when they are over. Very sturdy easy to put together, nice size, nice piece to put anywhere in the house.
I bought this toy box for my 1 yr old. It is perfect love the color. it is exactly like the description says. It really closes slowly so that no fingers get pinched. Overall it was easy to put together unless u have a 1 yr old trying to help. It is sturdy I am able to sit on it without a problem. I love this toy box
I got this toy box for my son's room. He is 3 and his whole room is batman, so I got the black one to match all his furniture. I got it 4 days after I ordered it, which was AMAZING. It was so simple to put together, and assembly was cake because it was literally like or 9 pieces you have to put together, but it comes with all the assembly you need except for a screwdriver. I love how heavy and durable it is, it isn't flimsy or cheaply made. It was bigger than I expected, but I'm SO GLAD because a lot of toy boxes are made really small. I like that it doubles as a bench, I have a blanket and cushion at the top so he can sit on it and read his books. I sat on it when I finished it to see how durable it was, and it held me fine! It exceeded my expectations. I'll probably buy one without the top bench for my room to put blankets and throws or something in it. I would upload a picture of how great it looks in person, but I don't see the option on this to do so. GREAT PRODUCT. seriously.
I bought this toy box about a month ago. My ( 4 year old)granddaughter comes to visit on weekends and i thought it would be good to store her toys. The hinge on the lid has already BROKE ( three times).Keep in mind this toy box is only used on weekends. The block of wood that connects the hinge to the lid pops off EVERYTIME she opens the lid.We have even tried gluing the block of wood and puting in more screws to hold the hinge in place. For the price it is VERY poorly designed…It is designed more to look good than to be used…Will NEVER buy a product from this company again..