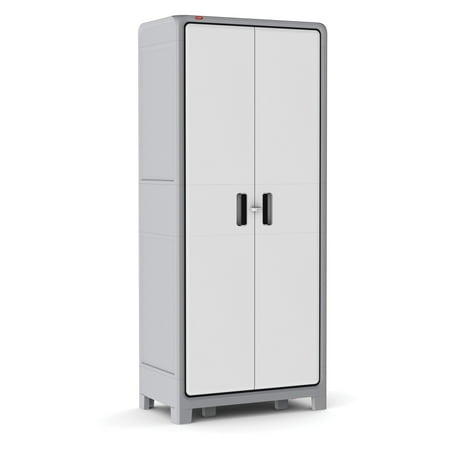 Organize your garage with the Keter Optima Wonder 6 ft. Tall Indoor Garage Cabinet. This unit's durable, versatile design with four adjustable shelves and flip-over, removable bins let you sort and store with convenient ease. The plastic frame offers long-lasting appeal ideal for keeping tools and supplies stored safely and just where you need them.
Keter Optima Wonder 6 ft. Tall Indoor Garage Cabinet:
Sturdy resin construction is easy to maintain – won't peel, dent or rust
4 adjustable storage shelves with flip over removable bins
Door sealer for better protection against dust and humidity
Cabinet shelves hold up to 66 pounds
Three different ways to efficiently customize your storage cabinet
reviews
It was exactly what we needed. Easy to follow directions, and easily built. Light weight, so easy to move after assembly. Secured right to the wall with screws provided. I would buy this product again and highly recommend it to anyone looking for easy storage cabinets.
I like it, but not real thrilled with instructions and the hinges are not designed really well I have order 2 replacements but on the whole it serves my purpose for what I wanted it for!! I may even buy 1 more!!
Really nice quality for my garage. However, be prepared for hours of assembly…lots of small parts.
We ordered two cabinets. There are many, many pieces which is why the cabinet is so strong. It took a very long time to put together. We're very happy with the product.
This is a great cabinet. It has a lot of pieces to put together, but it is worth every piece when completed. Thinking of ordering another.
when the cabinet arrived it didn't have the back panels to put it together, I called wayfair and they told me the panels are on back order from isreal! had it for over a week and still can't put it together. do not buy from wayfair if you need this cabinet right away.