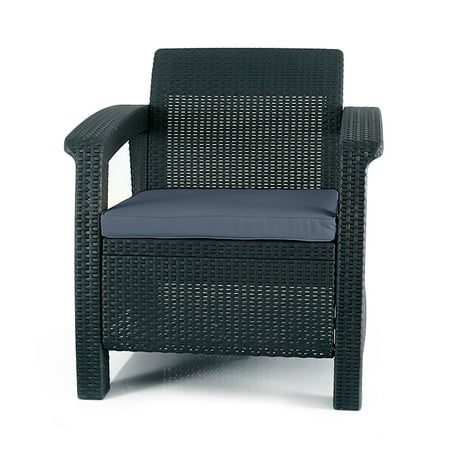 The Keter Corfu Armchair with Cushions in Charcoal Gray Rattan brings you the ultimate indulgence combined with strength and durability. Stretch out against the reclining cushioned back after a long day. This chair supports almost 300 lbs of weight. It has a contemporary design and ergonomic comfort that's exactly the right combination for your patio or garden spot. With this patio armchair, you get a deep seating and ergonomic engineering for extra comfort. You know right away that relaxation doesn't get better. The resin armchair is crafted from a special type of plastic, a durable yet natural looking material. The open weave design mirrors natural rattan for an upscale look. This piece combines that look with the robust resilience of this unique polypropylene resin construction and UV protection that keeps it looking great longer. 
Keter Corfu Resin Armchair with Cushions, All-Weather Plastic Patio Furniture, Charcoal Gray Rattan:

Assembled dimensions: 29.5 in. W x 27.6 in. D x 31.1 in. H
Weight capacity: 299.83 lbs.
Open-weave design that mirrors natural rattan
Includes 1 weatherproof seat cushions (accessory pillows not included)
Cushion is 2 inches thick and corded for added texted and comfort
Ergonomically engineered for ultimate comfort
Virtually maintenance free, rust-proof and decay-proof material
High temperature tolerant and UV protected so it will not fade
Easy to move, rearrange or put into storage thanks to its lightweight build
Durable weatherproof polypropylene resin plastic construction
Designed for self-assembly (assembly tool included)
Coordinates with the Corfu Loveseat & Corfu Coffee Table
Model #205068
reviews
Although there were a lot of parts the chair was easy to assemble and does not require tools. The chair is stylish looking and comfortable. A great value for the price.
We bought 4 of these chairs.. they are fairly simple to assemble, they feel very sturdy. My only concern is the cushions, they feel very thin but, at the price I paid it is expected , easy fix,.. also since the cushions arent secured to the seat base I'm worried that the wind might take them so I store when not in use.. all in all I feel comfortable with the purchase.. cushion are an easy fix
We purchased 4 of these chairs for our new deck! They are perfect. Easy to assemble, beautiful and comfortable!
I purchased four of these chairs for our new deck we built. Easy to assemble, comfortable, looks amazing!
This chair was steeply discounted when I purchased two chairs and a coffee table. I figured I would get what I paid for but I was shocked to find how nice of a quality this furniture was. I live in an unguarded duplex and told my boyfriend this set was almost too nice to put outside! My boyfriend loves these chairs as well and told me he was relieved I didn't buy adirondack chairs. So this could be an alternative to those I guess. The chairs also are incredibly comfortable. I am 5'1 and don't feel like these chairs are too deep or a stretch for my short legs. Shorties, you know what I'm talking about! Anyway, I was so impressed I bought my mother the entire set. She loves these chairs as well! I would tell anyone who buys this that you're getting a sleek comfortable design with durability for great value!
Chairs are comfortable but the piece all plastic and cant keep the back screw covers on the plastic keeps popping off. Bad design.
I purchased other items from this set last year. They are lightweight, easy to assemble, durable, comfortable and sleek. They are replacing wooden adirondack chairs which, though brought in each winter, just don't hold up to the salt air. Price on Hayneedle was very good!
Great chair especially for the price, wasn't super easy to put together but was easily handled by my husband, great color and seems sturdy
The chair are plastic and cheap. I returned them right after I took them out of the box.
Ultimate indulgence, contemporary design and ergonomic comfort are exactly the right combination for your patio or garden spot. With the Corfu deep seating set from Keter, youall know right away that ...