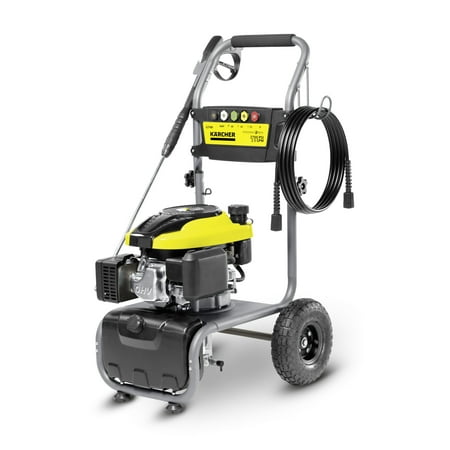 Karcher 1.107-266.0. . Features: Performance driven Karcher KPS 196cc engine for efficient cleaning. Axial cam pump with aluminum head for reliability. Folding handle for compact storage. Onboard detergent tank for convenience. 8 in. pneumatic tires for maneuverability. Karchers G 2700 pressure washer delivers the right amount of cleaning power for general household jobs in a compact, easy to use and robust machine. The folding handle allows convenient and compact storage. Five pro-style quick connect nozzles provide effective spray patterns for all cleaning chores around the home. Karcher's G 2700 pressure washer delivers the right amount of cleaning power for general household jobs in a compact, easy to use and robust machine. The folding handle allows convenient and compact storage, and five pro-style quick connect nozzles provide effective spray patterns for all cleaning chores around the home. Features Performance driven Karcher KPS 196cc engine for efficient cleaning Axial cam pump with aluminum head for reliability Folding handle for compact storage Onboard detergent tank for convenience 8 in. pneumatic tires for maneuverability Includes G2700 Performance 2,700 PSI 2.5 GPM Gas Pressure Washer – 1.107-266.0 (5) Pro-Style Quick Connect Nozzles (0, 15, 25, 45, 65/Detergent) Specifications Series: Performance Length: 23.6 in. Width: 21.6 in. Height: 39.4 in. Weight: 48.5 lbs. AC Voltage: Adjustable Pressure Regulation: Adjustable Wand: Amperage: Applications: CARB Compliant: Chemical Injection Method: Cleaning Power: Engine Displacement: 196cc Engine Make: Karcher Engine Model: KXS Engine Warranty: Frame Type: 2-Wheel Cart Fuel Tank Capacity: High Pressure Hose: Horsepower: Hose Connection: M22 Hose Diameter: Hose Length: 25 ft. Hose Material: Thermoplastic Max. Water Flow Rate (GPM): 2.5 Max. Water Pressure (PSI): 2,700 Part Number: Power Type: Pump Type: Axial Direct Drive Shipping Weight: Spray Gun Connection: Spray Gun Nozzle: M22 Spray Gun Tips Included: Starting System: Thermal Relief Valve: Torque: Type: Water Temperature: Wheel Size: 8 in. Wheel Type: Pneumatic
reviews
This is my second Karcher. If it works and lasts as well as my first, I will be a happy customer.
Lots of pressure. Easy assembly. Starts right up. Seems reasonably built for the price point.
It starts on the first pull. Easy to move with the fat tires. The nozzles were easy to change. It had plenty of power. I have always used the electric pressure washers. They seem pretty weak compared to this one. I was able to wash things that did not clean up with the electric ones. There is always the fact that I was spraying water around the electric connections. I know it had a ground fault interrupter, but it still made me uneasy. The soap dispenser was easy to use and worked good. We have red clay around here and it sticks on my tractor like paint. It came right off with a little soap.
I paid $222 for this unit delivered to my home including taxes. I don't know why anyone would purchase any other unit for more money in the <3000 psi. class. After adding gas and oil, the motor started up with only one pull and has worked flawlessly ever since. This is my second Karcher. The first lasted 15 years of sometimes heavy usage. Very respectable.
I was pleasantly surprised at the quality of this power washer. Used for the first time yesterday and it ran non-stop for almost 4 hours. Easy to set up and very easy to use. Only on downfall, sprayer hose is pretty stiff and sometimes hard to move, but overall this machine is outstanding.
I washed my mobile home with this and other items. It has much more power than electric power washers which do not have the strength to remove the growth and barnacles on the hull of our boat. The finish is much nicer on the Karcher than any other brand I have seen and it always starts first pull. I did a lot of research and for $209 with free shipping it is a bargain. The manufacturer does not include engine oil so most people will have to make another trip to the store to get oil.
This is an awesome power washer, starts with one pull most of the time and is very powerful. Just do not do what I accidentally did. When using this washer watch and make sure you do not get the washer hose between the deck and the motor with the motor hot if it touch's it will burn a hole in the hose. The first time I used mine the hoses got caught under the motor and burn a hole in it, and had to order a new hose.
About 10 years ago, I purchased an 'Karcher' Pressure Washer from Sam's Club (G2600) and only had to repair the pump once. It was well worth the money I spent back then. Needless to say, the pump gave out again and even though the motor still ran good I decided it's time to spoil myself with a new one. I am a General Contractor and also a full-time Handyman and truly need this in my line of business. I checked Sam's Club inventory but found that they were carrying a different brand, so I knew that Walmart is part of this store chain family and checked online and low & behold they had the brand that I came to truth… 'Karcher', and this was not only a stronger machine but also cost about the same I paid for my first one 10 years ago. Once I put it together, added the oil and gas, I was ready to test it out. Hooked up the water hose to it and turned it on, flipped the on/off switch to ON and gave one small tug on cable to start the engine and halfway through the tug it started! Wow! And talk about the pressure, it was amazing. I guess my old one was ready for retirement after all. All in all, can't beat the product nor the price (and I did shop around at the big stores and other discount freight companies and found this to be the best deal by far). Thank you Walmart.
The unit worked right out of the box and even came with the oil, which was great cause I forgot to get some ahead of time. One problem – after first use the wheel fell off.