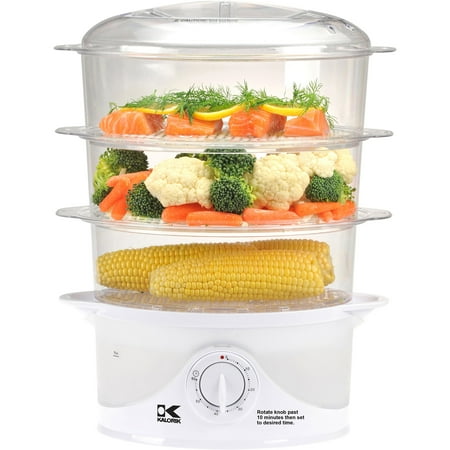 The Kalorik 3-tier Food Steamer is just what you need for a healthy cooking option in your own home. Steaming is an easy way to prepare a variety of fresh foods, making meals that are better for your family to enjoy. With a generous 9.5 total quart capacity, this electric food steamer is convenient for cooking healthy dinners at home. The unit provides a rice bowl and three stackable transparent baskets that make it possible to steam three different types of food simultaneously. Other highlights include a turbo feature that starts cooking within seconds, a drip tray for collecting liquid, as well as stay-cool handles. The water level can be checked any time, and refill is easy even in the middle of the steaming process: just add water through the side handles. Best of all, the Kalorik food steamer's removable parts clean up easily by hand or in the dishwasher, and the base can be wiped with a damp cloth. It has a durable design that is made to last. The Kalorik food steamer has a compact size that makes it simple to store anywhere in your kitchen when you are not using it. It has a white color that will complement your dishes nicely. With the Kalorik 3-tier Food Steamer in your home, you have a healthy option for making delicious meals.
Kalorik 3-Tier Food Steamer:
Turbo steam ring with 60 min timer control
3-tier transparent basket (9L) and cool-touch handle
Electric food steamer primary color: white
reviews
This is a great steamer, steams fast, and effortless, good value for what it does.
I have been using steamers for year. Had one like this many years ago. When it quit working I got one that you had to program. Lots of trouble, to the point that I all but stopped steaming. THen I saw this one. Ordered it. Have uses it 3 times in the 4 days since I got it. You can steam your potatoes for mashed potatoes. Then mash the,. They are so fluffy. I also love that I can do soft boiled eggs.
Food cooks just a little longer than what the booklet says. Have used it almost daily since receiVing it 2 weeks ago.
I researched different steamers and the reviews. This one was rated good and it definitely hasn't disappointed me. 3 tiers allow for different items to be cooked at the same time. We use it almost every day.
I love, love this steamer. The 3 tier is awesome. I do alot of boiled eggs, makes peeling steamed eggs so much easier. Shipping great Would buy from this seller again.
The stacking baskets are fantastic. I love that there's an easier way to add water, no more burned fingers. I also like the ready adjustable timer. Very easy cleaning. This is finally one of the best kitchen appliances I've purchased in a long time, well worth $50!!!!! No wonder the item is always out of stock I'm glad i got the steamer when I did! Steaming veggies it's now simple and a joy to cook again! Wonderful item!!!
The vegetables are cooked to perfection!! We absolutely love this steamer. Whole our vegetables are cooking, we are making lobster… delicious and in no time!! We have not tried any meats yet. We would definitely recommend!!
I was eager to test this steamer out and used it the first day I received it, it is an excellent product, works great and the holding capacity is quite large. Definitely what I needed in my quest to eat healthier. I bought two, one for a gift and one for myself. This is something I will have for years to come.