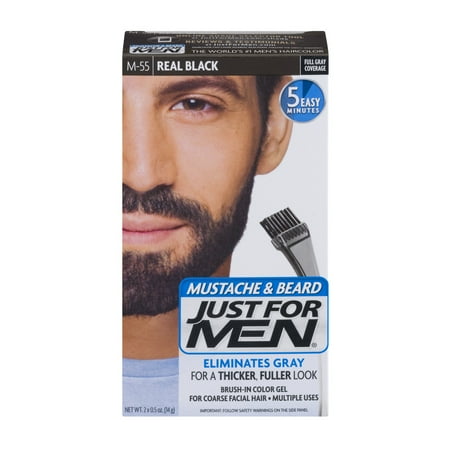 Just for Men Mustache, Beard and Sidburns Brush In Color Gel targets only gray for natural look. Beard Brush-In Color Gel M-55 Real Black.
Just For Men M-55 Real Black Mustache & Beard Brush-In Color Gel.
Full gray coverage.
5 easy minutes.
Eliminates gray.
For a thicker, fuller look.
For coarse facial hair.
Multiple uses.
Reviews & testimonials at justformen.com.
The World's #1 men's haircolor.
Brings out the best in your facial hair.
Eliminates gray &

Just For Men Mustache & enhances facial hair: Reinforces your natural color and gives your facial hair a more consistent, balanced and fuller look.
Easy brush-in: specially designed brush makes application simple.
Gray is gone in 5 minutes.
Formulated for facial hair: penetrates coarse, resistant facial hair.
No-drip thick gel conditions and softens as it colors.
Picking your shade is easy.
The amount of gray you have guides which shade is best for you.
If your natural hair color is: Black with a lot of gray, this shade is right for you.
If you have little to moderate gray, a lighter shade may give a better result.
Check out our shade selector tool, "how to" videos, tips and FAQs at justformen.com.
Just For Men and the Just For Men logo are registered trademarks of Combe Incorporated.
The Champions of Facial Hair trademark and logo are trademarks of Combe Incorporated.
Become a Just For Men insider to get product updates and special offers.
Join today at: justformen.com/insider.
Questions?
Call 1-800-431-2610.
justformen.com.
2015 Combe Incorporated.
All rights reserved.
Non-Permanent
Covers Gray
Formulated for facial hair
Long-lasting color
Warnings:
Warning Text: Usage Precautions. Do Not Use This Product If: You Have Already Experienced Any Reaction to Haircolor Products. You Have An Irritated, Sensitive Or Damaged Scalp. Haircolor Products Can Cause Allergic Reactions Which In Rare Cases Can Be Severe. If You Have A Tattoo, The Risks of An Allergic Reaction May Be Increased Before Using This Product, You Must Perform A Preliminary 48 Hour Skin Allergy Test According to Accompanying Directions. Read and Follow Directions On Enclosed Leaflet. In Rare Cases, Use of Hair Dye Has Been Associated With Skin Depigmentation (Skin Lightening Or Loss of Skin Color), Which May Be Temporary Or Permanent. If You Notice Any Skin Depigmentation Or Other Allergic Reaction Such As Discomfort of Severe Itching, Discontinue Use Immediately. Do Not Use This Product At All If You Have Skin Depigmentation Problems Such As White Patches On Your Skin (A Condition Called Vitiligo) Or If You Have A Family History of Skin Depigmentation Problems, As An Allergic Reaction May Cause Temporary Or Permanent Loss of Skin Pigment. Caution: This Product Contains Ingredients Which May Cause Skin Irritation On Certain Individuals and A Preliminary 48-Hour Patch Test According to Accompanying Directions Should Be Done First. This Product Must Not Be Used For Dyeing The Eyelashes Or Eyebrows – to Do So May Cause Blindness. Keep Product Out of Reach of Children. Not For Use On Children.
Ingredients:
Ingredients: Water, Coco Glucoside, Aminomethyl Propanol, P-Phenylenediamine, Resorcinol, Carbomer, M-Aminophenol, 2,4-Diaminophenoxy Ethanol Sulfate, Fragrance, N,N-Bis(2-Hydroxyethyl)-P-Phenylenediamine Sulfate, Sodium Sulfite, Erythobic Acid, P-Aminophenol, Caramel, Trisodium Edta, Cinnamidopropyltrimonium Chloride, Laurdimonium Hydroxpropyl Hydrolyzed Wheat Protein, Panthenol, Tocopheryl Acetate, Aleo Vera Extract, Chamomile Extract. Color Developer: Water, Cetyl Alcohol, Hydrogen Peroxide, Glyceryl Stearate, Peg-100 Stearate.
Directions:
Instructions: If your natural hair color is: black with a lot of gray, this shade is right for you. If you have little to moderate gray, a lighter shade may give a better result.
reviews
Purchased to keep on hand due to other getting low.
Very easy to mix and use. it's nice that you only use the amount needed and save the rest for next time.
Has two tubes of product which are mixed together in equal amounts in a provided tray. Couldn't be any easier, great for adding to a morning routine. Contains enough product for multiple uses. Looks natural.
I use the product on my head as well as my beard(both closely cropped) in one go – the gel makes it easy to apply(no drips).
I'm 45 years old and i haven't been to the doctor for over 20 years. And tell I used is product. I use Just For Men Touch of Gray years ago which I don't use hair color but once before which was Just For Men Touch of Gray for my head and beard and it was okay. I tried this same brand but for the beard and did not have any problems when I put it on and took it off. Everything was fine until the next day my face was swollen. I had a bad reaction. I had to go to the doctor and get a shot and put on prescribed allergy pills. That doesn't mean the product is bad. What it does mean is I recommend not just testing one spot for that moment. I recommend testing that spot and wait for24hrs to see any reaction.