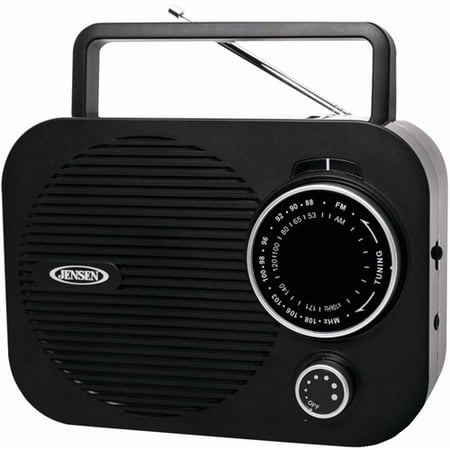 The black MR-550 Jensen Portable AM/FM Radio has a stylish eighties retro design and has built-in aux input for Apple iPod devices and MP3 players. The rotary telescopic antenna ensures great AM/FM reception, and the built-in foldable handle allows easy portability!
Jensen Mr-550-bk Portable AM/FM Radio:
Aux input AM/FM receiver
Foldable carrying handle
Rotary telescopic antenna
Powered by AC or optional 4 C batteries
Color: black
reviews
I use this radio all the time & I have never needed the ant. at all , nothing fancy but works great.
We have been without a radio for some time. So when we bought this little radio and started listening to the Christmas songs, my husband commented, "I had forgot how good it was to have a radio."
Yes, I would definitely recommend this radio, very good sound to be so small! Very handy to take with u on camping trips or anywhere u need to take a radio and want something compact.
Bought this for my Husband's Christmas present- Love to listen to the football games and hope he will like it –
This product was exactly as described. Works great and the volume is very good even for my substantial hearing loss.
Straight outta the box no sound whatsoever. I tried using the batteries instead of the power cord but nothing. Totally defective truly disappointed. I would of reordered it but upon returning it at my not so close Walmart the only option I had was to reorder it back at home & incur a shipping fee since I was now not meeting the minimum for free shipping. Bummer!
Technical InformationFrequency Band/Bandwidth: AM, FMTuner: AnalogInterfaces/PortsTotal Number of Audio In Ports: 1Battery InformationNumber of Batteries: 4Battery Size: CPower DescriptionPower Source...
Jensen Mr-550-g Portable AM/FM Radio: Green radio with aux inputAM/FM receiverFoldable carrying handleRotary telescopic antennaPowered by AC or optional 4 C batteries (not included)
Play your favorite radio stations or plug in your own music with this radio with an auxiliary input jack. AM/FM receiver rotary telescopic antenna foldable handle auxiliary input for connecting MP3 pl...