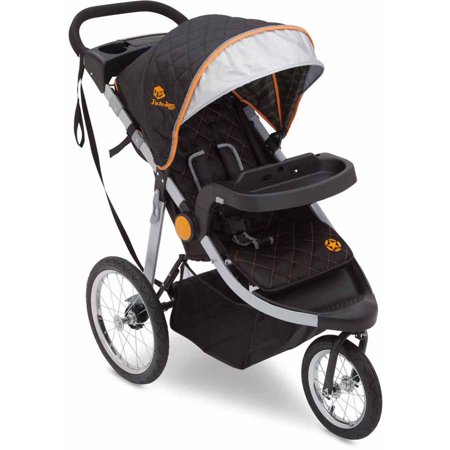 Make tracks! Adventure awaits your little explorer with the J is for Jeep Brand Cross-Country All-Terrain Jogging Stroller. Designed to provide your child comfort while you stroll, speed walk or jog across varying terrain, it features a cushioned seat with five-point safety harness, easy-to-adjust recline and an extendable European-style canopy with sun visor to protect them from the elements. You'll love all the stroller's parent-friendly features: a child tray that swings up and out to load and unload easily; ample storage space under the carriage and a convenient parent tray with cup holders and a compartment to keep your phone. Reflective material on the safety harness and piping ensures you and your child can be seen at night.
J is for Jeep Brand Cross-Country All-Terrain Jogging Stroller:
Stroller is designed for a child up to 50 lbs
Maximum height limit: 42″ tall
Multi-position reclining padded seat
5-point harness with soft shoulder pads
Extendable European-style canopy with sun visor
Extra-large storage undercarriage storage bin
Parent tray with 2 cup holders and smartphone storage
Child tray swings up and out to load and unload easily
Foam comfort handle bar with safety tether strap
Reflective material on the safety harness and piping ensure you and your child can be seen at night
Fits the following car seats (sold separately):

Graco SnugRide Click Connect
Evenflo Nurture
Evenflo Embrace

All-terrain rubber tires are filled with air for on and off-road maneuverability
Quick locking and compact folding for easy storage and travel
Stroller weight: 21 lbs
JPMA certified; meets or exceeds and ASTM and applicable CPSC standards
Assembled dimensions: 45″L x 24″W x 41″H
Folded dimensions: 24″L x 19″W x 36″H
Reviews
Talk about the difference a jogging stroller makes! The Jeep Cross Country All-Terrian Jogging Stroller makes so much of a difference on my daily walks with my child. I was always skeptical of the jogging stroller, seeing everyone having them I really just thought they were an unnecessary expensive fad. However after trading up from my typical stroller/car seat combo to this Jeep Stroller, I realize how wrong I was! The large wheels really make a difference in ease of pushing a stroller around during my walks. Going over bumps is no longer the big earth shattering mistake it was with my older stroller, causing my stuff to fall out and my drinks to spill in their holders. This stroller really helps cushioning bumps. Having three wheels also really helps with ease of steering, make it possible to easily steer with only one hand if needed. This particular stroller is mostly black and gray, with some hints of orange and even a green underside to the rain cover. If you are looking for a "boy stroller" this one definitely has more "boyish" colors, but if colors don't matter to you (like they do not to me), this stroller is great anyway! It has some cool little features that I am glad I now have, such as double cup holder, holding compartment with a lid, and locking front wheel. Front wheel has a small lock on it, similar to the brake locks on the back but much smaller, that locks the front wheel from moving back and forth so that when you pick up momentum while running or walking you do not get the shakes in your wheel. Helps a lot, especially while running. The brake locks on the two back wheels are large, which I like very much, because it makes them very easy to lock and unlock with your foot. The stroller comes with a safety tether that connects from a bottom bar to around your wrist so that if you fall or lose control in any way the stroller can not roll away from you. It is also able to connect to a few different infant car seats, 3 in fact: 1. Graco SnugRide, 2. Evenflo Embrace & 3. Evenflo Nature. So if you have, or purchase one of these three infant car least you can rest the seat in this stroller, they click in, and even have velcro tethers on the side for further securing. I have to say that if I have another child I will definitely use this with my car seat instead of making the mistake to buy a combo seat/stroller, since I think this stroller is so much better and versatile than the others. There are a few things I do not like about it however. The first being that it has no cup holder in the child tray. My daughter loves to have her drink close by, and by not having a child cup holder I can not have it handy for her to get for herself, causing me to have to stop and hand a drink to her. The second is that the foot rest for the child is so small, once the child gets a bit bigger (mine is 3) their legs hang over qite a bit and I keep thinking she will hit the front wheel… but that has not happened. And the last and biggest thing, is that even when folded, this stroller is still quite large. I have a small car and it takes up the whole trunk almost barely fitting, where as other typical four wheel strollers seems to fold down much smaller. However with my SUV it doesn't seem to be that much of an issue and I dont mind. That being said, even with a few things I don't necessarily like about the stroller I still think it is better than my previous one, especially when it comes to walking/running! I still love this stroller regardless and would NOT go back. I like this stroller a lot, and I know you will too.
This stroller is great for running or even just walking across uneven ground. It is sturdy, easy to maneuver, and rolls smoothly. It is easy to open and fold closed but note that the seat must be lowered all the way down when closing, which is not always easy to remember and prevents the stroller from collapsing closed. A larger canopy would be better for more sun protection.
Literally, the coolest jogging stroller around! First off, it was super easy to assemble. I don't really have the time to be sifting through pages upon pages trying to assemble things nowadays. All I did was take it out of the box, put on two (out of 3) tires, clip the trays on, and it was set to go. I love that it is light weight and pretty small compared to other jogging strollers. It "drives" so smoothly when running and jogging, the front wheel swivels with ease (unless you don't want it to and lock it), and it has heavy duty tires to run through grass, dirt, and concrete without a problem. Some of the extras that I really liked are the extra-large canopy, the handle bar which was super comfortable, the trays were easy to put on and take off, and the huge mesh storage bin at the bottom. It also has more than one cup holder (in front of the handle bar) and it's great that they don't stick out from the stroller like lots of others do. Additionally, there is little compartment with a lid that you can use for your phone, keys, or anything else you don't want to carry or be seen but still need easy access to. While I was jogging, my phone was pretty secure in the bin and I didn't hear it flopping around which was great. The seat is comfy and can be upright or reclined all the way back. It also has the capability to attach certain car seats to it. I have not used that feature though as I prefer to jog without the bulk of a car seat. There were only a couple things I kind of didn't like, although certain other things made up for it. First, the directions weren't extremely clear or helpful when it came time to how to fold it up to store it away. I basically figured it out by trial and error. Once I got it though, it was a quick task to fold it away. Once it's folded, it does seem a little bulky, but I expected that as all the tires are still on and you aren't removing any trays. I'd rather have it a little bulkier than slimmer and have to always reattach things. When you re-open it after it's been stored, it opens up really quickly and easily. Lastly, there is no child cup holder. When jogging, there were a few times where I had to stop to hand over a sippy cup. Despite that, the tray is quite big and the perfect depth to set toys or food on. Overall, I am totally loving my new Jeep Cross-Country All-Terrain Jogging Stroller!
I purchased this stroller as an interim solution for my special needs toddler/granddaughter until her adaptive stroller can be ordered. I chose it because it had the multiple seat recline positions and that helps her since she has physical disabilities that prevent her from sitting up on her own. She loves riding in the stroller – we push her around inside the house so she gets to move from room to room much easier. It's just the right size for her small frame and I can tell she is very comfortable in it and enjoys the smooth ride it provides. The sun visor will come in handy too and I really like the tray on the handles with the 2 cup holders and a place to put my cell phone or wallet while strolling her.
This jeep jogger is great for running and walking. It's nice and smooth and it's very easy to maneuver. I like that you can take off the tray completely…it's easy to take it off and put it back. It's easy to open and fold but you have to make sure that the seat is all the down otherwise you have to open it again because it won't close completely. The extra large undercarriage storage bin is great! I wish the handle bar is adjustable. The only thing i am not impress is the recliner strap because it is very hard to adjust.
J is for Jeep Brand Cross-Country All-Terrain Jogging Stroller: Stroller is designed for a child up to 50 lbsMaximum height limit: 42" tallMulti-position reclining padded seat5-point harness with soft...
Adventure awaits your little explorer with the J is for Jeep Brand Adventure All-Terrain Jogging Stroller. Designed to provide comfort for your child while you stroll, speed walk or jog across varying...