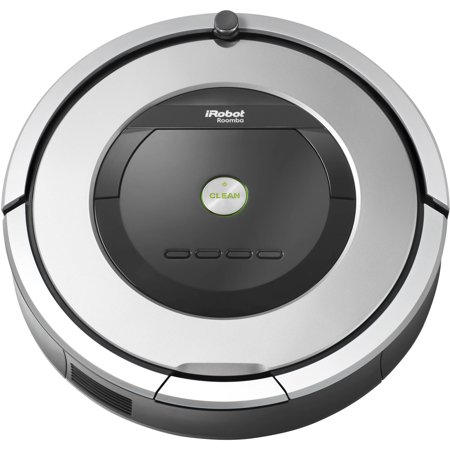 Experience a deeper clean with the iRobot Roomba 860 Vacuum Cleaning Robot. Featuring the revolutionary Aero Force Cleaning System, Roomba 860 delivers up to five times the air power and requires less maintenance. Preset Roomba to clean when it's convenient for you, so you can keep up with everyday mess.
iRobot Roomba 860 Vacuum Cleaning Robot:
iAdapt Navigation uses a full suite of sensors to navigate and adapt to your changing home
AeroForce 3-Stage Cleaning System delivers 50 percent more cleaning performance
Tangle-free extractors help prevent hair and debris clogs
Schedule up to 7 times per week, or just press CLEAN for immediate cleaning
Automatically docks and recharges
Avoids stairs and other drop-offs
Automatically adjusts to all floor types
Dual Mode Virtual Wall Barrier manages where your robot cleans
Lithium-ion battery delivers up to 4 times the battery life
3.6″ low profile cleans under furniture, beds and kickboards
reviews
This Roomba is probably one of the best buys we have done in quite a while. I am ASTONISHED at how much dust and dirt it picks up. I run it everyday on the timer and everyday its filled! I walk around barefoot and its a pleasure!
nice to come home to clean floors every day, just need to remember to make sure small paper is off the floor-and I also had to block where the TV is as it will try to suck up the cords. Other than those two things it is great.
Saves your back and time! Very easy to operate, and the app that stops it from entering a room/area, comes with the 860 and is most useful, eg., you just want a certain area done. Wonderful product and I only wish I had this 20 years ago!
Overall, this Roomba does a satisfactory job. The floors are pretty clean after it is run, and I find it nice for use between cleanings. However, it is not prefect, and it should not be expected to replace a real cleaning. It also requires all tiny 'stuff' to be off the floor before running. We struggle with this as the kids or pets are constantly leaving junk around the house. Running the Roomba takes about an hour in small rooms, and two hours to completely clean really big areas. When finished, the difference is noticable. I was pleasantly suprised by how well the tiny dust sized dirt was cleaned up. However, cat litter is only about 70% picked up. The rest is shot off in random directions around the area. Also, our Roomba is very good at finding stuff to choke on. It is programmable, but I don't trust it to run unsupervised. Maybe if we didn't have pets or children… Also, if anyone in the house has long hair, prepare to spend some time pulling it out of the brushes, the wheels, and other places you wouldn't think to look. Surprisingly, it is doing very well with our shedding husky though. I love how well it cleans up pet hair. Overall, I am happy with our Roomba. It was a bit pricey, but if it lasts for a while it will be worth the splurge. Just make sure you can give it the maintenance it needs.