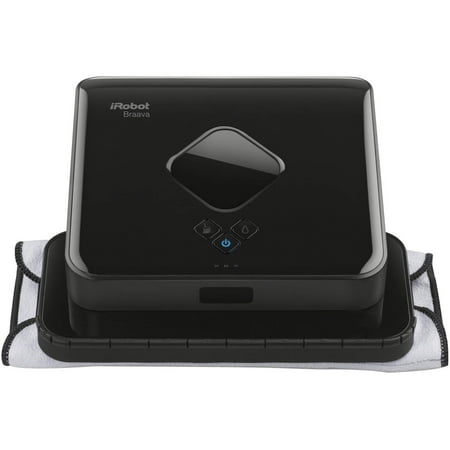 This iRobot Braava 380t Floor Mopping Robot will help maintain gleaming hard floors every day. Its smart navigation helps it keep track of where it's been and where it needs to go. This iRobot Mopping Robot allows you to choose from dry sweep or damp mop modes for a beautiful clean that suits your unique needs and home. It is easy, effortless and whisper quiet. This Braava mopping robot will clean your floors for you without disrupting your daily activities or sleep. It can be used with disposable or microfiber cleaning cloths to pick up daily dirt, dust and hair. The iRobot Braava 380t Floor Mopping Robot includes a dry sweeping cloth and a damp mopping cloth. It also comes with a turbo charge cradle that allows your Braava to recharge in just two hours. It is smart enough to avoid stairs and other drop-offs while still cleaning well under furniture, beds and kickboards.
iRobot Braava 380t Floor Mopping Robot:
Northstar Navigation works like an indoor GPS to clean until the job is done
Choose from 2 modes: dry sweeping or damp mopping
iRobot Mopping Robot can be used with disposable or microfiber cleaning cloths to pick up daily dirt, dust and hair
Reusable microfiber cleaning cloths included one dry sweeping cloth and one damp mopping cloth
Turbo charge cradle recharges Braava mopping robot in just two hours
Whisper quiet operation
iRobot Mopping Robot avoids stairs and other drop-offs
Works on all hard-surface floors including hardwood, tile, vinyl, laminate and more
Braava mopping robot has 3.1 low profile cleans under furniture, beds and kickboards
reviews
I have the Irobot 980 as well and between the tow of these robots i don't vacuum or mop love them both . The customer service is great if you ever need them.
I live alone with all hard wood floors saves me a lot of time just letting it do its thing
SUPER QUIET! I have been using this everyday to do a cleaning in the high traffic areas of my house plus a bedroom. I have a dog and even though he doesn't shed he leaves paw prints everywhere. This has been perfect for picking them up. It also cleans around the table and high chair really well. I love to have a clean home and I love how much this helps. I would say that when you buy this, purchase a few more wet clothes. They get dirty quickly and I have to wash them after each use.
I use this in my business every night. Every morning I come into clean floors. Saved me in frustration as well as payroll!
iRobot-Braava 380T Floor Mopping Robot, just absolutely love it! For refreshing up the floors in between floor cleanings. Bought extra wash cloths too. So so whisper quiet. I wish could buy another cube to cube navigation on the Walmart.ca site as I have larger floor coverages to clean. Thanks iRobot for helping me keep up with my cleaning.
Vacuum is a great asset to have! We have lots of hardwood flooring & this helps keep it clean in between my "big" cleanings.
I own a very large home-based business and my worst habit is never getting to the floors! I was so fed up with not getting to all I have to do each day that I bought the Braava 380t. I LOVE MY BRAAVA! It handles the work for me and I can walk from my office barefooted onto the floor after it's finished and the floor is CLEAN. I really tested this units capabilities by reading all its instructions after opening the box and because I had not swept the floors yet, I wanted to see just what the Braava 380t would do. I was amazed with all the unit picked up using a dry cloth sweep. I actually had to stop the unit to clear away dog hair some from the unit and then let it start again. It picked up right where it left off. After this was finished, I went right into the floor washing mode. I was impressed with how quiet the unit is and I walked back down to my office to work and knew when it was finished because "it tells you" with its tones. This is my second iRobot product and I will be purchasing the new Roomba 980 soon. I've owned my first Roomba for 5 years now and I'm just replacing the battery pack this week. She's still going strong! Thank you for helping a very busy CEO keep her floors clean and neat.
Works well – we have a large dog that drools a lot and this allows us to stay on top of the cleaning. The operation is quiet and it doesn't seem to bother the dog. One caution (sort of). The robot apparently likes to watch TV and it turns on our Visio brand TV whenever it cleans in the same room as the TV.
I love the Braava 380. I originally bought the Braava jet a few months ago. I did not like that system at all and returned it. Wasn't a fan of the preprogrammed cardboard part of the pads that you would need to continually buy forever, or the spraying of water directly on the floor, the sound of the water constantly being sprayed, didn't really like any part of that system. I love my Roomba so decided to give the mopping robots another try and bought the 380. It's perfect for my needs! I am a pet owner and while the Roomba picks up the dog hair, I needed this Braava 380 to clean up the dust and mop up foot prints. It does everything I expected it to do. I love the fact that I can use Swiffer sheets for the dry mopping and I love the braava wet mopping cloths that you can throw right in the washer and reuse–bought 6 of those. Love the fact you can use your own mild cleaning solution in the reservoir, or plain water if you want. This isn't going to replace a good hand mopping with your own elbow strength, but it will sure cut down how often I actually need to hand mop the floor. My whole upper floor (2 bedrooms, kitchen, living room) are all hardwood and connected, so this thing is a lifesaver.
This is the second iRobot product I purchased. Having been extremely satisfied by my Roomba I decided to give Braava a go, hoping it would feature the same quality as its cousin – hoo boy, was I wrong. I honestly think my eight-year-old is a better coder than whoever designed the movement algorithms on this thing. I have seen it just give up and declare itself lost IN THE MIDDLE OF AN EMPTY ROOM. It routinely gets stuck under things like couches, refrigerators – and I don't actually mean "stuck", mind you, I mean it cannot move forward or laterally and is TOO STUPID TO TRY STRAIGHT BACK. I wish I could "set it and forget it" every evening like my reliable Roomba, but this thing requires constant supervision wherein 99 times out of 100 I just turn it off out of impotent frustration and just mop myself. I'm not sure what type of home this sad toy is designed for, but whoever they are I'm sure they live a pretty minimalist existence in a large empty space with lots of time to mop, because Braava fails utterly at literally everything else.