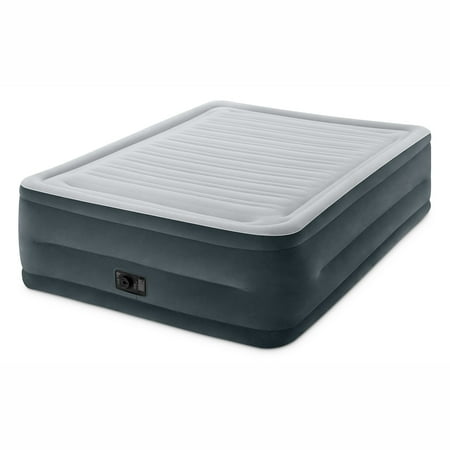 The revolutionary Dura-Beam interior construction provides the ideal comfort and firmness for a rejuvenating night's sleep. The horizontal air chambers provide added stability and support around the entire bed. The bed's elevated 22-inch height makes it easier to get in and out of, much like a traditional mattress.
Intex Queen 22″ DuraBeam High Rise Airbed Mattress with Built-in Pump:
Comfort plush high-rise airbed
Engineered with the Dura-Beam technology
Provides enhanced comfort, stability and support
Ultra-lightweight bed adjusts to your personal firmness preference for an incredible night's sleep
Sleeping surface is covered in soft flocking for extra comfort
Indented sides keep your fitted sheets from slipping
Elevated 22″ height makes it easier to get in and out of
Built-in pump will inflate and deflate the airbed with the switch of a button
PVC, ABS, CU, rayon and polyester
Warnings:
California Proposition 65 Warning: This product may contain a chemical known to the state of California to cause cancer, or birth defects or other reproductive harm.
reviews
Effective airbed. Easy assemble. Slept for 2 days straight body didnt ache. You just need to fill up a lil air next day.
Loved this. Nice thickness no touching the floor with two people lay on it. Only used it once so far but seems to hold up well.
1st day of use everything OK air went out a little. But 2 use seemed like air came out quite a bit over night don't know if it's temperature change. One was in house second time was in tent that had,a tarp on it . Still gas air in but not like I told started with
This bed is more comfy than I thought it would be. Even though it's temporary until I get an actual bed with a bed frame it makes for good sleeping and I can actually get out of the bed, which is why I got a raised airbed. Worth. Every. Penny.
This bed was perfect. The slip inside the package that says to give the bed about 2-3 days to stretch is very accurate. I took it on vacation and by the 2nd night of sleeping on it, it was no longer in need of anymore air/stretching out. Even still, I didn't have to add air the first night. I did the 2nd and 3rd night though due to the stretching. Best air mattress I've had. Super solid and heavy duty material as well to guard better against accidental abrasions. I recommend.
I purchased this air mattress to use while I make a decision on a bedroom set. I've had the this mattress now for 1 month and it does not remain inflated. According to the directions it may take a few days for the bed to adjust and hold the air. But a month? Really? I pump in air before going to bed, wake up in the middle of the night to turn on the pump again, and more air is needed to get up out of the bed in the morning. Had I known this would be the case, believe me I would have spent my money elsewhere. The rating of poor is is better that it deserves.
Intex Queen 22" DuraBeam Raised Downy Airbed Mattress with Built-in Pump: Made with revolutionary fiber-tech construction for premium comfort and durabilityRaised 22" highProvides a tall sleeping surf...
Intex Queen 22" DuraBeam High Rise Airbed Mattress with Built-in Pump: Comfort plush high-rise airbedEngineered with the Dura-Beam technologyProvides enhanced comfort, stability and supportUltra-light...