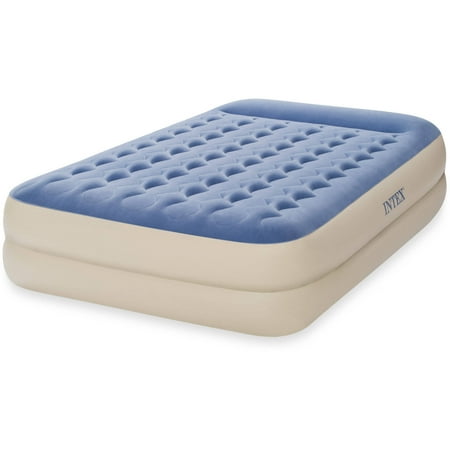 Get a good night's rest with Intex Queen Raised Pillow Rest Airbed! Constructed with Fiber-Tech inner construction, the airbed is comprised of thousands of high strength polyester fibers resulting in amazing durability and provides the ultimate stability and support. Unlike traditional airbed construction, high strength polyester fibers do not stretch over time. It is covered in a soft, flocked sleeping surface to enhance the comfort. There is no need for pillows; the airbed is designed with built-in pillow for convenience. The 3-in-1 valve makes inflation and deflation easy. The special valve fits Intex hand-held pumps and also works with other manual and electric pumps. Large exhaust valve makes deflating quick and easy. Pump is sold separately. 
Intex Queen 18″ DuraBeam Standard Raised Pillow Rest Airbed Mattress:
Dura-Beam Standard with Fiber-Tech Construction
Unique Fiber-Tech inner construction provides the ultimate stability and support
Soft, flocked sleeping surface for comfort
Raised 18″ from the floor
Built-in-pillow
3-in-1 valve
Special valve for Intex hand-held pump, Valve also works with other manual and electric pumps. Large exhaust valve makes deflating quick and easy
Pump is sold separately
Dimensions: 60″ x 80″ x 18″
Weight capacity: 600 lbs
Regarding Inflation: when you first inflate your airbed, the material will stretch which is sometimes misinterpreted as leaking. You will sense a loss of pressure, that's just the bed stretching. Simply re-inflate the bed again. Do so as needed until the bed fully settles, usually in 2 to 3 nights.
reviews
Only got one use out of it before it sprang a leak. Wouldn't waste the money on this one.
These air beds are made to be used occasionally for guests, etc. you said after several weeks of use it went bad. If you bought this intending to use as your permanent bed, that's not what it's for! And if you got several weeks of constant use out of it, I'd say it was a really great air bed!
Im 6ft and 225 pds… I have slept on it the last 3 nights and it remains firm…no additional air added. Im very happy with this product
i opened it up at night and it only took a little bit of time to figure out how to blow it up. instructions are easy to understand by the pictures or directions. held up all night long, firm like i like it, and i slept like a baby.. good buy… going to buy 2 more.
Easy to carry and reliable materials! This mattress will be out camping with me for a while!! 🙂
this is an excellent mattress for the price. the inflation holds very well for 24 hours, then there is noticeable slight softening of the mattress, by 48 hours its like sleping in a hammock. The inflator works well, it would have been great if this also could be used to deflate the mattress. keep the inflator near by, you will be inflating every day, but you will be very happy
Fresh out of the box this mattress lost air as soon as it was filled. Seams were not sewn properly causing the mattress to bubble and lose shape. Returned the next day as the mattress was completely useless. One star is because Walmart return policy made the transaction quick and easy when it was brought back to the store. This mattress deserves zero stars.
Intex Queen 18" Raised Pillow Rest Airbed Mattress: Perfect for the home, dorm room and even campingWaterproof, flocked topFlocked top keeps the sheets in placeRaised 18" from the floor for convenienc...
Intex Queen 18" Raised Pillow Rest Airbed Mattress with Realtree Camo Pattern: Ideal for guests who love the rugged outdoorsSoft, flocked topBuilt-in pillow for your convenienceCarry bagOutdoor airbed...