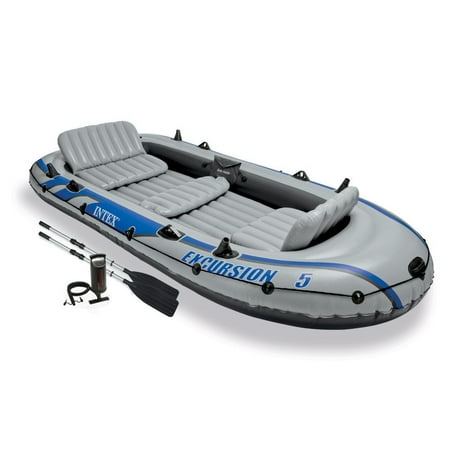 You spend a lot of time on land, but you don't truly live until you are out on the water. The Intex Excursion 5 Boat Set gets you out there exploring and rowing.
The Excursion 5 is ready for lots of expeditions. It's a great boat for 5 adventurists who love spending time on the water paddling, fishing, or floating down the river. Designed with heavy-duty, puncture-resistant PVC vinyl, this boat is made to get through every excursion you go on.
It's durability and comfort is superior with an inflatable I-beam floor, 2 inflatable seats with backrests, and a comfortable middle seat. The boat contains 3 air chambers, a Boston valve, motor mount fittings, 4 built-in fishing rod holders, a gear pouch, and an all-around grab line. The set includes 2, 54-inch aluminum oars, welded on locks and oar holders, and a high-output pump for easy inflation and deflation.
If you'd rather be boating and the lake is your happy place, get out there and journey on the water with friends on the Intex Excursion 5 Boat Set.
reviews
I like it, it's fit my family five persons and only spent 20 minutes to fill it by air.
I bought this to take my boys fishing. It worked great and is very bis & comfortable.
Very pleased with the size, detail and quality of the boat. The boat did arrive with a slow leak in the floor but I assume a minor repair will take care if it.
After sitting around in hot garage the boat deflated ??
My girlfriend and I took it down the river and had a blast! The material is really heavy duty but the oars could use a better design. Once you screw the black plastic deal that extends the oars, they are extremely hard to take apart for storage. I recommend buying the motor mount from Amazon as it only cost me like $14 and get a trolling motor.
I really like this boat. I bought if specifically to use in an estuary off the inner coastal. Once you get the boat in the water it is fantastic. It is easy to row, and it comes with four oar locks so you can add two more oars if you would like. I will say that although I was happy that the oars came with the boat, I was not impressed with how the pieces of the oars come together. They don't lock together in a way that keeps the oar straight when under pressure. I would not let this deter you if you want a boat of this size. I have used the boat twice at this point and the oars still work fine. The included seats that come with the boat are very comfortable and a great idea. The specs of the boat say that it is both a four person boat and a five person boat so I was a bit confused. After using it I would say it is ideal for four but you can have five if you need to and still be comfortable. Getting the boat in the water requires a bit of work. I have not used the pump that comes with the boat, I used the compressor that came with my air mattress. This fills the boat very quickly. When it is inflated it is about 12 feet long and very heavy. You need at least two people to move it. I had to drive it to where I was going to use it and had to strap it to the top of my car. Getting past the logistics of getting it where you are going to use it, I would definitely recommend this boat. I would give it five stars if the oars were just a bit better, but again I would not let this deter you from buying.
The delivery was very fast on this item. But of course as soon as it got here I opened it up to find multiple tears in it. So instead of paying for shipping and restocking fee, all I really have is a pump and paddles. So just over $100 you can get yourself a pump and two cheap paddles. I saw one other person say they had tears in it brand new out of the box. So I take it as its a gamble for this item you get one without tears or you get one with tears. Very disappointed…..
Intex Excursion 5 Inflatable Boat:- The INTEX Excursion 5 Inflatable Boat Set is safe, durable and ready for the water- Three durable air chambers including an auxiliary air chamber in the hull for ex...