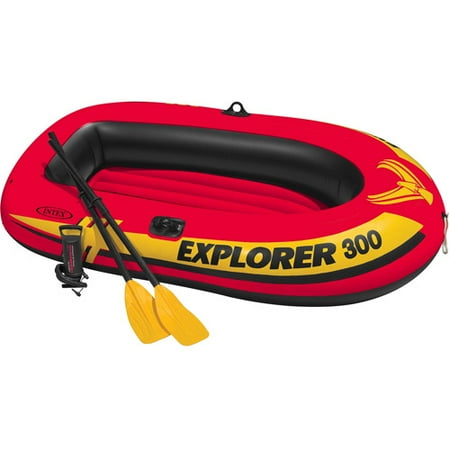 Have fun on your next outdoor adventure using the Intex Three-Person Inflatable Boat. Made of sturdy construction, it fits three people comfortably with a combined weight limit of up to 410 lbs. It's ideal for camping and fishing trips or your backyard pool. The Intex inflatable boat has an inside floor and welded-on oar locks that keep your equipment secure. In addition, it also includes two 48″ oars and a grab rope on the bow to pull it onto shore and then tie it to prevent it from drifting. The Intex Three-Person Inflatable Boat comes in a bright red color for easy identification and includes a hand pump to inflate quickly and easily.
Intex 3-Person Inflatable Explorer Boat:
3-person inflatable boat
Ideal for pools or lakes
Comes with 48″ oars, hand pump and a grab rope on the bow
Inflatable floor for comfort and rigidity
Welded on oar locks
U.S. Coast Guard I.D.
Model# 58332EP
3-person boat can support up to 410 lbs
reviews
Kind of early to tell, however about the boat. We have not yet used it. I do love the curtains tho.
A good buy for the price. Fits two people comfortably.
My grandkids love this boat – play with it in our pool and at the lake.
This little unit is great for calm waters & just floating around. I am able to unpack & fully inflate within 10 minutes. Takes 12 to 15 minutes to deflate, roll & repack. (I use an old compression type sack to hold oars, pump & the raft. Carry it on a front bike rack.) I took this out for the first time to see how our poodle would like it. The 15-guage plastic withstood his claws, etc. Awkward to row w/him facing me but enough room overall. Be aware of air contracting after the raft is placed in colder water! Made it a bit soft. Overall a good buy for what I wanted to accomplish!
The box, that contained this boat, list that the maximum weight for this product is 410 lbs and not 1400 lbs as documented on this website.