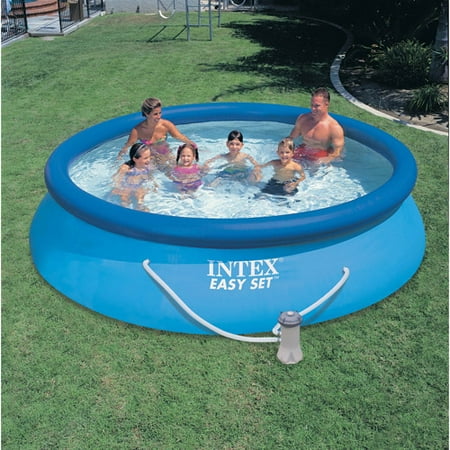 Enjoy hours with family and friends outdoors this summer in your Intex 12′ wide Easy Set Swimming Pool.Ready for water in as little as 10 minutes! Super easy set-up, no tools needed! Your pool comes with a cartridge filter pump which allows for a clean swim experience giving the pool a faster water circulation and improved filtration.Constructed with triply-ply material for puncture-resistant PVC.Please Note: Proper installation of any above ground pool requires an area, sufficiently larger than the desired pool, to be leveled flat. Uneven ground, hills or holes must be leveled before pool assembly begins. If severely uneven ground prohibits level ground, proper installation will not be possible..
Intex 12′ x 30″ Easy Set Above Ground Swimming Pool & Filter Pump | 28131E:
Easy Set?
Pools are great for adults and kids alike
Water capacity: 1,485 gallons (5,621 L) at 80% full
Included 530 GPH filtration pump comes with a GFCI (Ground Fault Circuit Interrupter) safety plug feature.
Pump compatible with Intex Type A filter cartridges
Pump Voltage: 110-120v
SUPER-TOUGH? 30 gauge sidewalls are made with 3 separate layers of material for extra strength and durability
SUPER-TOUGH? Plastic is unaffected by gasoline, oil and salt water and highly resistant to damage from abrasion, impact and sunlight
No sand required to support walls on level surface
Drain conveniently with a drain plug accepts a garden hose to drain water away from the pool area as desired.
No tools required, instructional DVD included for fast and easy setup
Easy Set? pools are much simpler to disassemble than any rigid steel-walled pool.
Storing your Easy Set? Pool during the off-season is a breeze and will extend your pool's life for many years.
Weight: 34.8 lbs- Shipping Dimensions: 15.4 x 10.8 x 27.5 inches- Part : 28131EH- Warranty: 30 Day Warranty Against Manufacturers Defects. Does not cover accidental tears, rips or holes. 530 GPH Filter Pump carries a One Year Manufacturer Warranty
reviews
Good pool, no problem setting up. Pump and filter system maybe little small for volume of water.
I give it 5 stars, because it's my fault that I set it up on uneven ground. I just wonder if it would come up to the right height if the ground was level? Maybe if I had some brackets or something. I don't know. Wasn't expensive and it gets the job done. Might need a new pump after reading these reviews.
The pool is great, easy to set up and care for and just the right size for my 4yr old grandson.
I love these pools, they are easy to put up, and manage. You do have to make sure they are level for best results, but other than that they are great. I keep a cover on mine, for optimum water clarity.
This pool set up easily and worked well for our needs. You can't swim in it, but you can float and cool off on a hot summer day. Just what we wanted. I don't know if it will last more than one summer; time will tell, but for the price, we are pleased.
what is needed to keep water nice? i need more info on this.. somewhere on here someone posted they put household bleach in it.. please help
We returned it and got a refund 2 weeks after getting it. The top ring will not hold air. The filling valve has such a loose fit, it lets all the air out. We tried wrapping the vlave 'plug' with some plumber's teflon tape – didn't make a difference. Everytime the ring would deflate, if we weren't right there to stop it, 1/2 or more of the pool would drain very quickly. Happened 3 times in the two weeks we had the pool.