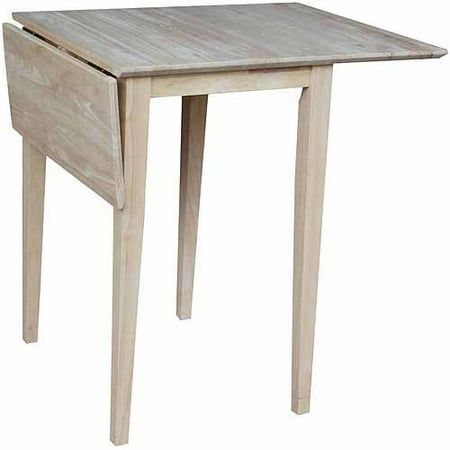 Update the look of your personal or professional space with this International Concepts T-2236D Small Drop Leaf Table. It comes unfinished so you customize it to achieve the best fit for your decor. This ready-to-finish drop leaf table will make an ideal addition to almost any home or office.
International Concepts T-2236D Small Dropleaf Table, Ready To Finish:
International Concepts drop leaf table
Made of wood
Unfinished
Ready to finish how you want
Dimensions: 36.00″L x 22.00″W x 30.00″H
Model# T-2236D
reviews
Quick delivery, quality product, easy to put together, table doesn't wobble.
I am beyond pleased with this table. I wanted a small work table for a nook in my kitchen my kitchen and I wanted a natural wood one. There are very few online (none in local stores here) that fit the bill. This table is perfect. The quality is very good, it is well-designed and perfectly executed. I am sealing it with pure food grade mineral oil and it brings out the gorgeous wood grain beautifully. If you use salad oils like canola or olive oil, they will turn rancid over time. Mineral oil never spoils and has no odor or taste. A permanent finish takes time but is easy to do: a light coat rubbed in once a day for the first week, then one coat a week for a month, followed by a coat once a month til end of the first year. You know it's completely sealed when the day after a coat the oil has not completely sunk into the wood. At that point a maintenance schedule is just a light coat once or twice a year. The nook has a closet at one end that houses my washer and dryer, and I'll use the table to hold laundry as I fold it from the dryer, in addition to being a food prep and mixing center.
I just built a tiny house and wanted a small drop leaf dining table. This was perfect and I can paint it later. It is very well made and easy to assemble. Love it!
Easy to assemble. I think it took me 5 minutes. The table is study and ready to apply whatever finish your heart desires! The price I felt was great for the product.
Great fast shipping – sturdy table easy to put together – solid and beautiful wood – take note of the measurements it is very small but that is what I needed for my kitchen – love it!!
This table was perfect for my laundry room. I expected this table to be cheaply made and wobble due to the low price but I was wrong. This is a quality table. I would definitely purchase another item from this company and highly recommend this table if you need a small one.
This table is priced right and would have been perfect but one of the legs is shorter than the others which causes the table to wobble. Unfortunately that nice waiter at my favorite restaurant who puts napkins under the table legs doesn't live at my apartment.