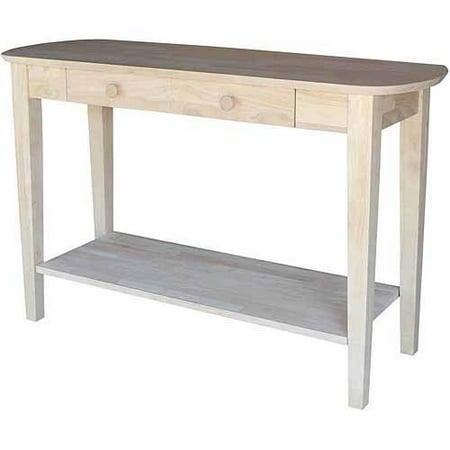 International Concepts makes wood furniture that's unfinished so you can finish it however you want.
International Concepts Ot-5S Philips Oval Sofa Table, Ready To Finish:
Made of wood
Unfinished
Ready to finish how you want
Dimensions: 46.00″L x 16.00″W x 29.00″H
Model# OT-5S
reviews
Using in my bedroom along a wall. It is perfect. I particularly like the sturdy shelf underneath.
Very sturdy construction. Sanded well; easy to paint (or finish if you prefer).
Very nice table, high quality wood. I would never have guessed it was wood from rubber trees that have lost their ability to produce latex, which is what parawood is. I would have given it a full 5 star rating if it weren't for some issues with installing the bottom shelf. You are supposed to install "L" shaped brackets (provided) to the bottom of the shelf and side of the legs, however only 2 holes were pre-drilled, and they were not lined up properly. I had to drill new holes altogether in order to complete the installation. Fortunately, I have a drill and good selection of drill bits, but someone without these tools would have had real issues.
Table looks great with light wood furniture, which is very hard to find in stores these days! Table accents a dining room set nicely. The only problem we had is that a screw for the door know was to small and we needed to purchase another one to get the knob on.