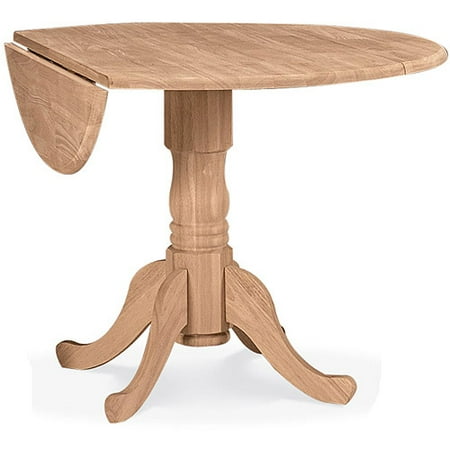 You can expand a kitchen dining space at a moment's notice when you use the International Concepts Drop-Leaf Table, Unfinished. It is a beautifully crafted piece that can be a centerpiece in a dining area. Its surface provides a wonderful place to dine or share beverages with friends. The 42″ drop-leaf table can also be an ideal place to study and work on projects. With this piece, you can select your preferred finish, whether it is an oak stain or a fashionable paint color. Match it to your kitchen and home decor. This easy-to-assemble piece of furniture features two adjustable side pieces, so you can easily broaden the surface to accommodate extra guests at mealtime. This unfinished drop-leaf table has solid parawood construction that can last for years. Have guests over for dinner or drinks, or simply gather around it for a family game night or a round of cards. Make this quality piece of furniture an integral part of your kitchen, dining area or entertainment center.The International Concepts Drop-Leaf Table, Unfinished, can be a wonderful way to prepare for extra guests and showcase your masterpiece.
International Concepts 42″ Drop-Leaf Table, Unfinished:
Beautiful unfinished table comes with two drop leaves to expand the surface of the table and accommodate extra guests
Each leaf is 9″
Unfinished 42″ drop-leaf table is made of solid parawood
Easy to assemble
Manufacturer warrants this unfinished table to be free of manufacturer's defect at time of shipment
Drop-leaf table dimensions: 42″L x 42″W x 29.75″H
International Concepts 42″ Drop-Leaf Table Model# T-42DP
reviews
I was well pleased with the product. The table was easy to put together.
The great price on this well made sturdy table deserves an excellent rating. Easy to put together. Like the unfinished wood. I can choose my style which will be a stained top and off white base..
For the price, this table is a steal. I have limited spacing (living room and dining area in one space) and the size was just right. Solid construction, easy to assemble and the unfinished option gave me the flexibility to stain the table the tone I had in mind. I suggest anyone who purchases this for staining purposes, to test the stain on the bottom or hidden part of the table. Every wood acts differently to each stain.
Overall this was a beautiful table to finish up. Quite time consuming to be done right. We wanted an oak shade and it took 3 coats of stain, and now in the process of finishing it off with polyurethane. It's turning out beautiful! We are quite impressed with parawood. We were unfamiliar with this wood, and we researched it and found several complaints about it, but we did not find any problems with this table. Happy with our purchase!
Great table, easy to put together. Finished it with poly paint. Put 3 coats and had a beautiful finish. Wood was top quality. Price was great. I've seen others similar, and not the same great quality as this one. Recommend to all.