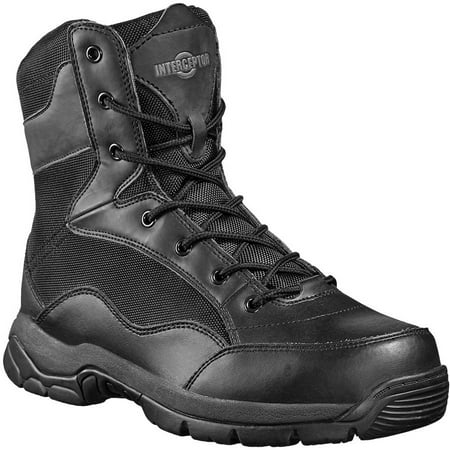 The Interceptor Men's Force Steel Toe 8″ Tactical Boot is designed for traction and durability. It is resistant to oil and to slips, helping to keep you upright in slick environments. This men's tactical boot also has a steel toe for added safety.
Interceptor Men's Force Tactical Boot:
Interceptor boot with rugged tactical design
Steel toe
Wide fitting
Slip resistant
Oil resistant
Available in 7.5, 8, 8.5, 9, 9.5, 10, 10.5, 11, 12, 13 and 14
reviews
Cheap boots for me last 1-3 mths tops as a truck driver. Even as advertised oil/slip resistant, they dont usually perform. I took a chance on these and they have delivered. 6 mths great service, great even wear and grip. waterproof with no rips and comfort and support that has lasted even with long hours in the boot. Insole has also stood up to abuse, print is still visible in the bottom with no tearing. This boot breaths a bit better than some I've had and steel toe is also holding up well with little to no comfort issues. I especially like the fit of these boots, they are like a glove; form fitting even with my odd feet. Im headed out to buy another pair!
I have owned 2 pairs of these and they last about 2 years in a working enviorment here is my vid review on them. https://youtu.be/A3Hk0XJFM44
I purchased these boots about two weeks ago from the local WalMart Stores and used for hiking on paved trails, muddy trails, and on sidewalks. I have put in about 20 miles in the last two weeks. Works very well, has good grip, good padding all around and ankle support. Light weight, steel toes, wide toe box. It runs one size lower. I normally wear size 10 or 10.5, but size 9 in this model fits my feet very well. I have not tried water-proof feature yet. I would highly recommend these boots.
 Just got them today, so I can't say anything as to how long they'll last, but they look great, are very comfortable on my old feet, grip fairly well (I just tried them outside with all of the Phila snow and ice), and the price??….you just can't beat $30. I don't wear boots all that often now (don't ride a motorcycle much these days), but for the occasional snow 3 or 4 times a year, and maybe some other times of inclement weather, I think these will do just fine. Oh, forgot to say that I didn't plan on buying boots with a steel toe (my old machine shop days are long ago), but these boots are so lightweight to begin with, you don't even notice the extra ounce or two….and it just might save a toe one day. And mine don't have any zippers that I can find 😉 – Bottom line, they look great, feel great, seem good on slick surfaces, and come at a very reasonable price.
My son loves these work shoes ,He is a hard worker 6 days per week 10 hrs they are light enough to run like deer and heavy enough to save his toes from a 1000 lb object = Steel Toes Low cost !! Thank you
Just got them today but very disappointed, b/c they look great, cheap & steel toed but I can literally see some places that are glued. I mean I can touch the glued part & it's sticky. Before buying read 1 & 2 stars review not just the 5's & 4's. I hope I just got a wrong "batch" b/c I like Walmart.
Interceptor Men's Force Tactical BootSteel ToeWide FittingSlip ResistantOil Resistant