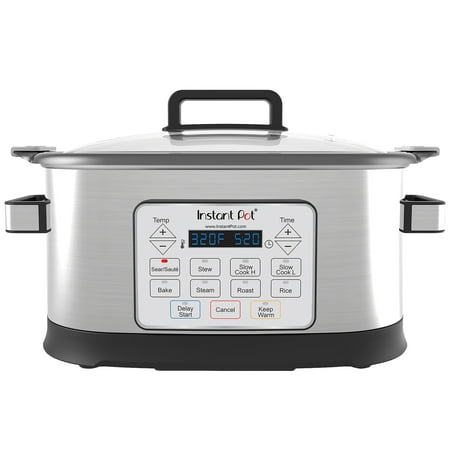 The Gem 8-in-1 Multicooker is built with Instant Pot Advanced Microprocessor Technology, the same technology behind the number one bestselling electric pressure cooker in North America. It features a variety of different functions including roasting, stewing, baking, and steaming. You can also slow cook, sear/saut, cook rice, and warmall in one pot. With 8 built-in smart programs, your favorite dishes can be cooked to perfection, simply by pushing a button. The best part, the inner part is dishwasher safe, so cleanup is just as quick and easy as your meal prep!
Gem has 8 high-in-demand features in just 1 device: it can slow cook, sear/saut, cook rice, steam, stew, roast, bake, and warm
Gem Multicooker is built with an embedded microprocessor that carefully controls the timer and temperature to ensure consistent cooking results. You can customize these settings using the operation buttons +/- to adjust cooking time and temperature, allowing you to achieve your preferred cooking results
The Slow Cooker, in addition to the (2) temperature settings, Low (L) 88-93C / 190-200F and High (H) 93-99C / 200-210F, you have the flexibility to customize the cooking time between 0.5 – 10 hours for each temperature level
reviews
I was in the market for a new CrockPot, then found this Gem! I love it. It is more of a slow cooker vs an pressure cooker. I like the fact that I can brown hamburger meat or vegetables in the same cooker. It has many functions like high/ low, sauté, and rice but you can also set the exact temperature if you want. The outside looks great and the insert is light weight. I leave it on my counter because it is used so often. I have tried a few dishes in it already but was really impressed with how the rice turned out. I had never cooked rice so perfectly!
We purchased this as a gift for our daughter, she absolutely loves it. She was so excited that it cut down the time in the kitchen.
was a nice pot but i wanted the pressure cooker pot so it was exchange for that one. was upset that the warranty i also bought would not transfer to the new pot so a new warranty had to be bought so it was seven dollars i lost
An unintended Christmas gift. My husband thought he was buying the IP pressure cooker not realizing the IP name doesn't just mean pressure cookers. I was a bit disappointed but decided to make the best of the situation by using this gem to cook pea soup. Let me tell you this is an awesome product. I used it on the saute feature and made my soup in less than an hour. I can definately have fun with this product.
I found this Multicooker easy to operate. Made a big pot of chili which was delicious. The reason I gave it a 4 star was the brown rice didn't seem to cook all the way. If that's the only problem I have other options to cook it. I have recommended the Instant Pot Gem 6 Qt 8-in-1 Multicooker to my sister in law and would recommend it to anyone that is thinking about purchasing one.
I purchased this Instant Pot over the others because I liked the size for cooking roasts, whole chickens, etc. However, it is more like a traditional slow cooking as it doesn't have the pressure cooking feature that I thought I was getting.
I purchased this multicooker with the mistaken assumption that all multicookers were pressure cookers. That's my fault for not reading the description more carefully; what irks me is that I purchased the "bundle" that included an Instant Pot cookbook that features recipes that predominately require using the (unavailable) pressure cooker feature (of other models).