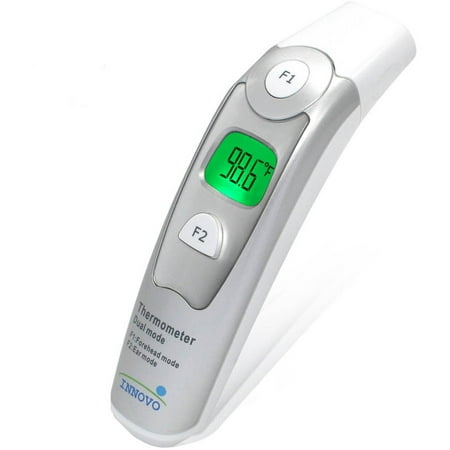 The Innovo Dual mode thermometer is designed to accompany your child from baby to adulthood. Choose between the ear mode (recommended for ages above one year old) and forehead mode (for all ages). The Innovo Dual mode thermometer uses the latest infrared scanning technology that is clinically proven to be extremely reliable and accurate. Only available to doctors and medical professionals previously, you can now take accurate body temperature readings at the comfort of your home.
Innovo Forehead and Ear Thermometer:
Dual mode thermometer — measure temperature via forehead and ear
Utilize newest infra-red detection technology
Upgraded software — no waiting in between measurements
Easy mode of operation
Safe and Hygienic
20 readings memory recall
Measures in both Fahrenheit and Celsius
Alarm when temperature exceeds 99.5 degrees Fahrenheit
Comes with 2 x AAA batteries that will last thousands of readings
reviews
This is a good little thermometer fits easy every where it's very accurate comares it with a other one I already hade for work. It's so easy to use I like the led funktion the most and the fact it tells you the temple right away
I love that it is so simple and easy to use. It is easy to use in forehead mode on a squirmy baby or toddler and simple to convert and use im ear mode on a child of adult. The reading is instant which is amazing! I keep it in my jump bag and make sure it is easily accessible. I love it!
This is a great product – very use friendly – the directions are precise and informative. The sleek design makes using the thermometer easy as 1 -2-3. It also comes with a holder which is nice to have to help keep the product clean while nto in use. Would highly recommend to anyone look for a dual purpose (forehead and ear) thermometer.
This thermometer is an awesome device. It fit very comfortably in my hand and has a resting base to store it on. I've always struggled with taking my temperature in the past as I don't necessarily enjoy oral thermometers. With two options, forehead and ear, I am set to easily check my temperature any time. I also love the instant read technology. No uncomfortable waiting for results here. If you do register a fever, it will give you an alert style beep and show your results in red too. All I can say is, wow!
I am very pleased with this thermometer! I work in a doctor's office and I like that I can get a forehead reading on a kid has ear pain, and that I am able to switch to a tympanic reading as well. I also like that is comes with a holder to rest it on when not in use. Sleek design, comfortable to hold, easy to use.
i already had a thermometer as this but it broke after many years of use, so i decided on upgrading to this one in 2017. its as simple to use as any infrared themometer, and using it i got consistent results, and it was well calibrated since i also have one model that costs about 4x more, but both gave the same results. i expect to get many years use of this, and i dont use it on a child, just adults, since i get results within a couple seconds.
This is a great thermometer that is perfect for any family! It appears to be a very nice quality and durable enough to last through years of wear and tear. I love how it gives you the option for taking a temperature on the forehead or the ear because some kids absolutely hate getting their temperature taken from their ear. It also tells you in the instruction manual what the normal temperature ranges are. If you have a fever, the screen on the thermometer will turn red and it will make a beeping noise to tell you. Overall this thermometer really is perfect for any home!