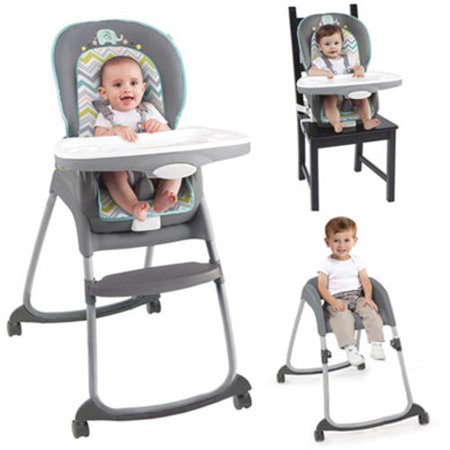 The Bright Starts Comfort & Harmony Ingenuity Trio 3 in 1 High Chair is a remarkable high chair that easily converts to a booster seat and later, a handy toddler seat – so it's every seat your baby could ever need! When used in booster seat and toddler seat mode, it can even accommodate two children at the same time! The smart, dishwasher-safe tray offers four locking positions to adjust as baby grows, and removes easily with one hand. The Bright Starts Comfort & Harmony Ingenuity Trio 3 in 1 High Chair has three seat recline options in both high chair and booster modes to help keep baby comfortable. Maneuverability is easy with four wheels, and rear wheel locks. The Ingenuity Trio high chair seat pad and straps are wipeable and machine-washable. The Avondale fashion collection will complement any home decor.
Bright Starts Comfort & Harmony Ingenuity Trio 3-in-1 High Chair, Avondale:
The toddler high chair is for use with a child 6 months and up
High chair converts to booster and toddler chair
Booster and toddler chair modes accommodate 2 children at once
The Ingenuity Trio high chair has a 5-point safety harness for full size and booster mode
3-point safety harness for restaurant-style mode
Dishwasher-safe tray with 4 locking positions
3 seat-recline options
4 wheels with rear-wheel lock
Seat pad and straps are machine-washable
Weight maximum for the toddler high chair: 50 lbs
The Bright Starts Comfort & Harmony Ingenuity Trio 3 in 1 High Chair has a 1-year warranty from the date purchase to be free from defects in material and workmanship existing at the time of manufacture
Reviews
My son is 5 mos old, and had Down syndrome, due to low muscle tone he has problems sitting for too long. This highchair offers 2 reclining position and straps that keep him safe, secure, and comfortable. It is easy to use for caregivers as well, with the ability to place tray into position or remove with one hand. The straps offer safety and easy adjustability for growing baby. It was easy to put together and is a wonderful chair to grow with my child.
This is a great high chair. It has 3 different positions that grow with your child. The back of the seat reclines , and it has wheels that lock. I highly recommend this high chair!
I bought this high chair for when my granddaughter comes over to visit. I have only used it as a high chair. I bought it because of the the 3 in 1 feature. So as she gets older I have the seats already. So far I am very happy with it overall. The cover comes off for washing. The tray area is easy to clean. We also have the playyard by them as well. We are very happy with Ingenuity and will continue to buy their products.
This was a great buy for us as we are grandparents and need a high chair at our house. Others we had looked at were much more expensive, but you do get what you pay for. This one is a little more flimsy than the expensive one they have at home, but it actually is lighter and easier to manage and the fact that it changes as the child does is a plus. It is a little tighter for the child to get into, but that may alert us to the fact that it's time for the next phase.
I have a 1 year old and a baby due any day now and I like that this highchair will let me feed both at the same time. One can sit in the chair while the other sits in the base! Its very easy to clean and my daughter loves to sit and eat in it! It makes meal time so much happier! Definitely recommend this to anyone, but especially if your looking to get your monies worth, two highchairs forbthr price if one.
I am pleased with the quality. The price was good. All pieces and parts are sturdy and easily cleaned. The plastic parts appear to resist staining (i.e. spaghetti sauce), and the high chair took only 5 mins to assemble without tools, and I'm sure the same could be said of disassembling it.
I don't know if it's just me but the seat of the chair seems too small and incovenient. I am surprised no reviewer has written about it yet. There's a big plastic stump in the front center of the seat that gets too close to baby's groin area and also forces the baby to spread legs wide apart. Moreover, the tray has a similar, even bigger, stump underneath that touches baby's groin area or on the tummy if you push the tray little further in. The seating area itself is way too small IMO. There's barely five to five-and-a-half inch space from the back to the front for the baby to sit in. My 11 month old son is already using most of the seat with the front of his diaper area clearly touching the stump. Can't see how this chair will grow with the baby to be used as a toddler chair in the future. Even the widtch of the seating area is less than 10 inches wide. Like other reviewers have mentioned, the wheels don't spin, they just slide. No folding capabilities, legs sticking too far out are all true issues. Picked up a 'Graco Slim Snacker' Highchair yesterday. So far we like it far better. Will write a review for that after we have used it for a while. In the meantime, the Ingenuity Trio 3-in-1 Highchair is a definite return.