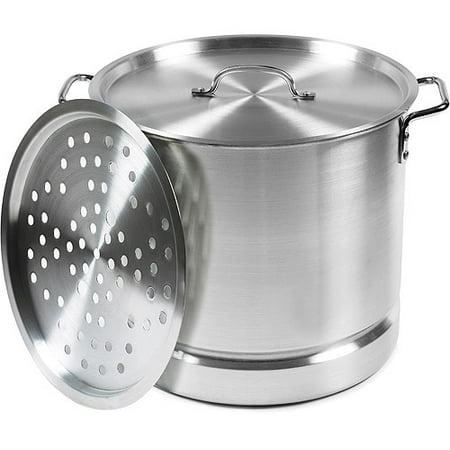 The IMUSA 32 Quart Aluminum Tamale and Seafood Steamer is an ideal cooking solution for large family gatherings, reunions, social events or potlucks. It is constructed out of heavy-gauge aluminum for ultimate durability and long-term use. The sleek, polished silver finish is stain-resistant and odor-resistant and provides fast, even heat distribution for exceptional results with each use. This IMUSA steamer is equipped with two ergonomic riveted handles for added stability and a firm, comfortable grip so you can transfer it from the stovetop to the counter or table easily and safely. The aluminum lid with a thick top handle helps to retain moisture and reduce splatter while cooking. This versatile 32-qt steamer also includes a perforated metal divider insert that sits at the bottom to keep food out of the water. This rack can be used for steaming vegetables, tamales and a variety of seafood such as crabs, crab legs, lobster, shrimp and mussels. 
IMUSA Tamale and Seafood 32-Qt Steamer:
Ideal for steaming cooking
Heavy-gauge aluminum
Includes steamer insert
IMUSA steamer has sturdy riveted handles
Compatible with most gas and electric coil stoves, propane burners and smokers
IMUSA steamer makes an excellent stockpot for simmering hearty soups, stews, gumbo and chili
Warnings:
California Proposition 65 Warning: WARNING: This product contains chemicals known to the State of California to cause cancer andbirth defects or other reproductive harm.
Directions:
Instructions: Stovetop
reviews
I bought this steamer pot to steam lobsters. The lobsters were cooked perfectly.
solid pot for a very reasonable price. I ended using this to convert my weber smokey joe into a smoker and it worked fantastic
I like the lightweight aluminum but it seems a little thin and susceptible to denting. The pot arrived with some dents in the bottom and that is why i can only give it 4 stars instead of 5.
Robust pot, good quality with strong handle. Pot is made in China, I use it for brewing beer and so far so good. I don't wash it with any dish soap and won't ever use it for anything acidic like tomato sauce. This is just for brewing beer and at $23 is a great buy considering it comes with steamer dish and a lid.
The "standard" for tamales. Could not find in local stores over the Christmas holidays but found it on Walmart.com and picked up the next day
HUGE pot! I was not expecting it to be so big, but it will be perfect for tamales. I would highly recommend.
Not only is this steamer big but the price is great! I've bought this item twice before as Christmas party gifts for our company's Holiday party and people were "fighting" over these Tamale pots. We played a steal a gift game and the pots were always the first item people would steal. This pot will hold a huge amount of tamales, posole, chili, stew, etc.
This is a good large sized tamale and seafood pot. Holds a lot at one time. Got this to go with the outdoor patio burner
I gave this to a friend as a gift, their oyster pot had a hole in the bottom. He says it worked great, and was bigger than his original pot. Was happy to have it.
Terrible quality. Cheap, thin metal, poor finish. The first time I used the pot, the steamer tray became wedged in the lower part of the pot after heating. I returned it the next day.