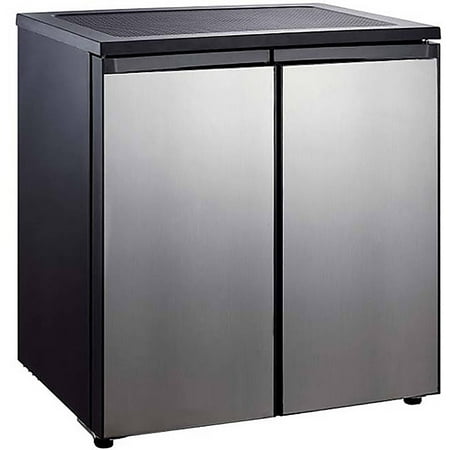 Easily store additional meats and vegetables at home with this Igloo 5.5-cu. ft. Side by Side Refrigerator Freezer. It is constructed with three adjustable glass shelves on the refrigerator side and two fixed shelves on the freezer side. This 2-door refrigerator freezer includes built-in handles, a light on the refrigerator side and a full range of controls over the temperature for both sides of the unit.
Igloo 5.5-cu. ft. Side-by-Side 2-Door Refrigerator/Freezer, Stainless Steel:
Refrigerator (right side) provides 3.3-cu ft
Freezer (left side) provides 2.2-cu ft
Full-range temperature control
Refrigerator light and integrated door handles
3 removable/adjustable glass refrigerator shelves
3 adjustable clear-lock refrigerator door bins
Clear-lock crisper drawer
2 fixed white plus bottom freezer storage shelves
1-year warranty
Dimensions: 32″L x 24″W x 33″H
Model# FR551
This Igloo refrigerator freezer is suitable for housing additional produce, meats and beverages
Reviews
I have had this fridge for about 2 weeks now and it works fantastic! I let it sit upright for about 2 hours before plugging in and set the controls to it's coldest setting. One day later I put all my food and beverages in there and it is cooling nicely. It keeps the beverages colder than my kitchen fridge without freezing the vegetables. And my Igloo sits on the back porch of my house, without the benefit of a/c. The motor is so quiet, you can not hear it running! Amazon had the same fridge for sell for over twice the amount of money that Walmart wanted. Love, love, love!
I've had this for a few weeks now and just adore it! It's very quite. No dings or funny smells.
I absolutely love how roomy the left side freezer is, with shelves and drawers. I raised the 2nd shelf in the refrigerator side to make room for a gallon of milk on the bottom shelf and now use the narrow middle shelf for yogurt tubes and string cheese. Keep in mind this is a mini fridge, so you can't fit as much in it as a standard size fridge but it's roomy and attractive for the size it is. Plenty of room on top for our small microwave, a small shoebox size storage container and a huge box of microwave popcorn. Very sturdy and the freezer size freezes water in under 4 hours.
I bought this mini refrigerator for my son to have in his dorm room at college. It is a great size. Both the refrigerator and the freezer compartments are very spacious and somewhatvequal in size. I was specifically looking for a mini fridge that had a large freezer to keep prepackaged food from home. That way my son could heat up frozen dinners in the microwave in his dorm room for convenience and cost-effectiveness. Got many many inquiries about where I got this mini fridge from. I would definitely recommend it for dorm, man cave or office.
I received a rate & review request from Walmart days before I received the product. Product came damaged in 3 areas!!! Returning it and will not reorder. It was exactly what I wanted, but with 3 areas damaged makes me wonder about quality control???? Don't want to chance it. Also took a long time to get with ship to store!! You can do better igloo.