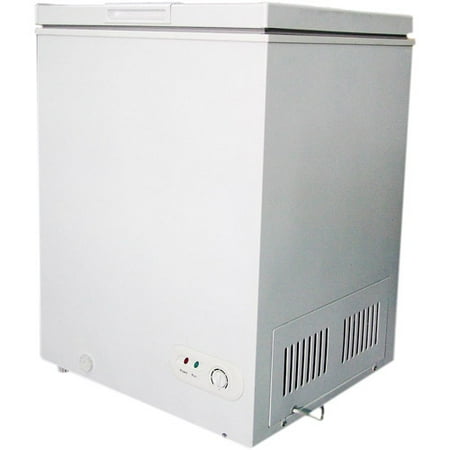 The Igloo 3.5 cu ft Chest Freezer features a space-saving upright design that fits almost anywhere, whether at home or in the office. A defrost drain offers a passage for water to drain and makes it simple to clean for even more convenience. An adjustable thermostat lets this upright chest freezer maintain a consistent temperature, so you can adjust it as needed and trust that it will stay where you put it. The thermostat also helps set different temperatures to store different categories of food items safely and efficiently. Because of its convenient upright design, it is easy to find your stored foods once it's time to thaw them out and cook. This spacious yet compact chest freezer includes a shelf for easy organization. Stay prepared for holidays, parties or unexpected guests with this large-capacity home device that's easy to use.
Igloo 3.5 cu ft Chest Freezer:
Adjustable thermostat
Defrost drain for easy cleaning
Shelf for organization
Includes basket
Model# FRF434 compact chest freezer
Convenient choice for storing different types of food, such as seasonal harvests, meats and more
Low footprint impact with surprisingly large internal capacity
Helps you be ready for holidays, parties and surprise guests
Reviews
Arrived timely and right side up, in perfect condition. I unpacked and set it up by myself. Meant to compensate for a small freezer section in my refrigerator without using too much electricity and seems like it will do the job as promises to cost about $20 a year to run.
Besides being received with a few dings in it , I filled it up and it's working great.
I read mixed reviews but mostly good ones. The design of this is perfect for us, holds plenty with small foot print. I will learn more on how reliable this brand is over time though. Also, right now this is in our cabin's kitchen on top floor, we using it while under construction, when we buy new fridge this will go to our basement and I will learn better how it holds up in cold weather. I read to just run a light bulb near the motor/condensor area will keep it working well in colder weather. So far so good.
I had bought a Haier freezer first and it arrived very poorly boxed and badly dented just like other reviews had said. Some reviews of this Igloo also claimed poor packaging and dents but my freezer arrived very securely packed and in perfect condition. Works great and I love it.
I've read previous reviews where freezers arrived damaged– mine arrived in perfect condition… A VERY heavy-duty cardboard box slides down over a sturdy platform on which the freezer sat, surrounded with styrofoam, and the package was strapped down with heavy plastic banding. In fact, the 'cover' is so sturdy, I'm not sure how I can dispose of it into my dumpster… or even get it up & in there (I'm 5′ tall…) As for function, unit is very lightweight (not the 68+ lbs Fedex claimed) and was easy to "walk" into place. MUCH larger than you'd think inside and 4x quieter than my refrigerator! You cannot hear the unit running! As for defrosting? Haven't needed to do this yet… Reasonably priced for this unit.
Perfect for small areas or limited space . Holds plenty for two people. Very quite and really useful. We only have one fridge and this helps store more food . Great investment !
Great little freezer. Delivered to door, however, delivery person sat it upside down and we were concerned about its damage but seems to be working great!
Well poop!!!! Got freezer yesterday and left it standing for 24 hrs just to make sure. Guess what, yep there was a dent, nothing major. The compressor access panel was dented. I plugged it in and it started running, put a cup of water in to make sure it would freeze, about an hour later it was not running. The compressor was very hot. I unplugged it and will return it in the morning…. Bummer….