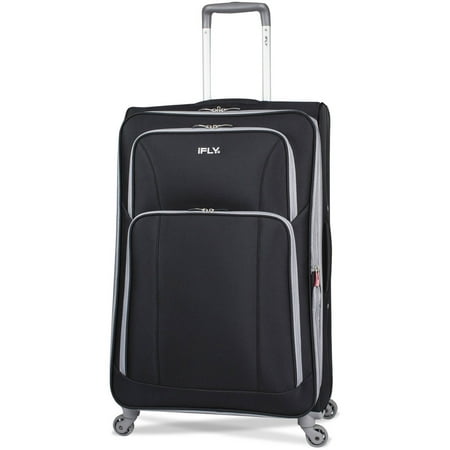 Looking for stylish lightweight luggage for any type of trip? iFLY's Passion is the perfect choice. You will love how lightweight Passion is. Built to last with premium materials and exceptional craftsmanship, iFLY offers you a ten-year warranty. Plus, with plenty of packing space as well as a zip mesh pocket, deluxe shoe pockets and keep-safe tie-down straps, your items will stay safe and organized. For even more space, expand your luggage with the iFLY expansion zipper. You'll also love the two exterior pockets that give you easy access to your tablet, headphones and other key travel items. And, to make getting around effortless, four easy-spin wheels ensure smooth 360-degree navigation. iFLY luggage is designed with the philosophy that stylish, high-quality luggage should never cost more than your airfare. Check out all of iFLY's styles and colors in hard- and soft-sided luggage.
iFLY Soft-Sided Luggage Passion 28″, Black:
Ultra lightweight: 7.1 lbs/3.2 kg
4 easy-spin wheels provides exceptional mobility
10-year warranty
Premium hybrid polyester
Runway style kick-plate
Expansion zipper increases packing space
Integrated shoe pockets
Multi-stage telescopic trolley handle system
Adjustable tie-down straps to keep clothes in place
reviews
I have taken my Passion on one trip, and there was so much room and so many places to put things that I didn't even realize I had taken a certain pair of shoes until I got home and unloaded it. The spinner wheels make navigation easier, and the Passion is so lightweight that I realized just how much the stuff I put into it weighs. I am looking forward to my next trip, which will be international, with Passion. Oh, and did I mention I love the color?
I bought the carry on roller bag for a specific trip I took. I fell in love with the color, the compartments and the over all shape of the bag. The rolling system is perfect! The only complaint I have is that the handle feels a little flimsy. Over all I feel like this was a great purchase, and I hope to own the whole line.
I like the bag because it's not too small or too big. It's just right size. On top of that, the bag came with a warranty. I will recommend this beg to people because I know i have used it.
I've only used it from Chicago to DC but it held up well through checked baggage. It's very easy to maneuver and there weren't any issues with it tipping over. I would recommend to anyone looking to purchase luggage!
I bought the carry-on size to match the 42″ that I purchased previously, love them BOTH!! Lots of zippered compartments both inside & out to keep everything neatly organized. Durable & attractive, so glad I found this luggage!!
Purchased these bags a month ago and had the opportunity to use them last week. They definitely were easy to spot when they came out of the airplane. There was no visible damage to them. The light weight made them easy to pack and transport around the airport. They rolled about very easily.