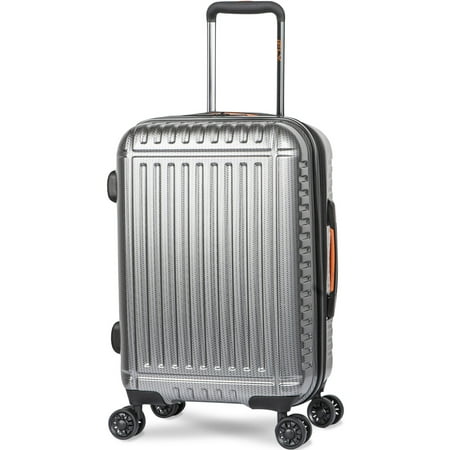 Looking for scratch-resistant hard side luggage for short getaways or as your in-flight carry-on? iFLY's Racer is the perfect choice. You will love Racer's sophisticated textured design and the comfort of its soft-grip gel carry handles. Built to last with exceptional craftsmanship, iFLY offers you a 10-year warranty. Plus, with plenty of packing space as well as a deluxe full lining pocket that creates a second compartment and keep-safe tie-down straps, your items will stay safe and organized throughout your trip. For even more space, expand your luggage with the iFLY expansion zipper. And, to make getting around effortless, four durable easy-spin double wheels ensure smooth 360 degree navigation. iFLY luggage is designed with the philosophy that stylish, high-quality luggage should never cost more than your airfare. Check out iFLY's wide array of styles and colors in both hard- and soft-sided luggage.
iFLY Hard-Sided Carry On Luggage Racer 20″, Silver:
Lightweight: 6.5 lbs
4 easy-spin double wheels makes 360-degree navigation effortless
10-year warranty
Strong ABS/PC design
Expansion zipper increases packing space
Deluxe full lining pocket creates second compartment
Soft-grip gel carry handles
Multi-stage telescopic trolley handle system with soft touch handle
Adjustable tie-down straps to keep your clothes in place
reviews
Bought 3 months ago travel every other week. Does well. Mine is cracked now but still going.
Thissuitcase is the perfect size to travel with. The silver colored case makes it easy to identify in the baggage claims area.
Nice look, very roomy, very easy to handle! Even expands, if you need more room.
It is really great suitcase and light weight with expandable space. I was little hesitant to. It but it's really worth it with the cost
Quality was good, the weight was very good, the wheels and handle were average the exterior finish was fair and interior very good. Exterior scratches easily. Looks worthy of 100(?) uses. Although has a convenient extendable center it seems to weaken the integrity of a heavy bag; thus shorten the life. Overall a decent buy for a good product.
Bets I have had, and I travel a lot, I am 74 years old and this is the best I have had.
I have only used it once but I love how easy it maneuvers.