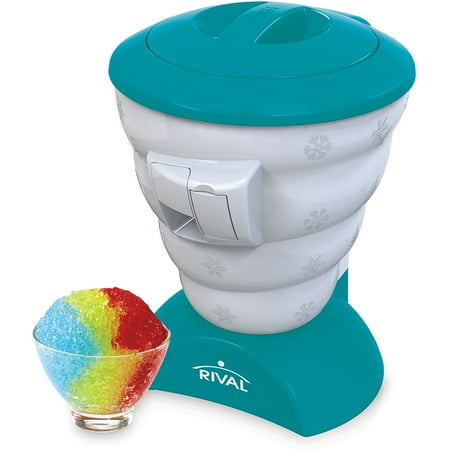 Now crunchy, delicious snow cones can be enjoyed from the comfort of home thanks to this electric Rival Blizzard Ice Shaver, Blue FRRVISBZ-BLU2; no need to wait for summertime festivals or fairs. Equipped with a powerful 50-watt motor, the easy-to-use machine quickly shaves ice. Simply add standard-size ice cubes right from the freezer and push the button to start. Shaved ice dispenses directly below into a cup, bowl or paper cone (not included). Make a variety of refreshing snow cones or other favorite summertime treats by adding flavored syrups, fruit juices, sodas or punch-flavored drinks to the shaved ice. Because of its snowy-fine consistency, the shaved ice absorbs flavors instead of them running to the bottom. The shaved ice can also be used to make frozen adult beverages. The electric ice shaver makes a festive addition to any birthday celebration, pool party or summer gathering with friends and family. Let the fun begin!
Ice Shaver, Blue:
Insert ice cubes to make crunchy, delicious snow cones
Fun, fast and easy
Uses ice cubes from your freezer
Powerful 50W motor delivers fast results
Simple push button operation
Model# FRRVISBZ-BLU2
reviews
This Ice shaver works pretty well, just messy if the ice starts melting on you.
Love this and it works like a charm. My grandchildren can work it and very safely and a real good buy.
I am anemic and crave ice. This is the best ice shaver I have ever purchased and believe me when I say I have had a few. This shaver is fast and shaves the ice where it simply melts on your tongue.
I love this machine! I use it probably more than most people would. I am addicted to shaved ice! lol I don't think it was intended to be used as often as I use it so I have replaced mine about once a year because the motor seems to go out but like i said I think its because I use it more than it is intended to be used. Its an appliance that permanently sits on my counter.
Works great. All you do is add ice to the machine and you have snow cones/raspados. Totally worth it and easy to use. Highly recommended! Also great for classroom parties and at home.
it worked perfectly i kinda of got annoyyed for puttin ice in constanly
I had a previous model of this. It worked for years then suddenly stopped. I bought this new one 2 days ago. Worked 3 times. Now the motor sounds like it is running , but the blades are not turning at all. Bad choice of purchase. I will not buy another.
Every day can be a snow day with icy-cold snow cone treats! Quickly and easily shave ice using standard ice cubes from the freezer, and with the touch of a button, shaved ice dispenses directly into a...
Ice Shaver, Blue: Insert ice cubes to make crunchy, delicious snow conesFun, fast and easyUses ice cubes from your freezerPowerful 50W motor delivers fast resultsSimple push button operationModel# FRR...