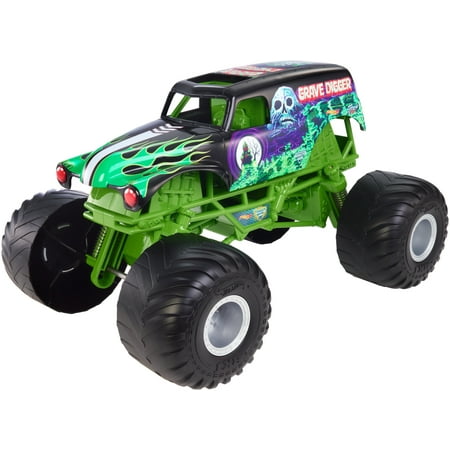 Crush the competition with this awesome, authentic, licensed 15-inch long Hot Wheels Monster Jam Giant Grave Digger truck! Hot Wheels Monster Jam Giant Grave Digger Vehicle:
The huge 1:10 scale body teams up with oversized mega tires and features real working suspension
It's so massive it can transport three 1:64 scale trucks!
reviews
Bought 3 for each of my grandsons and matter what they doing to it or how the smash or crash them, the truck stays in tact. They literally throw it up in the air, over ramps, through mud and the trucks survive
Awesome quality. Huge! Shocks are really cool.
My five year old son loves Hot Wheels and various other cars, diggers, train.! When the opportunity arose to review this item, I knew he'd love it! When the box arrived, we were both surprised with how huge the Monster Truck was! Though we've never been to a Monster Truck rally, he has seen the commercials and immediately wanted this Monster Truck to do "stunts" — knocking over block-towers, rolling down homemade book-ramps, and "jumping" stuffed animal obstacles. We learned quickly that this Monster Truck has nice, durable springs loaded in the wheels, making it perfect for rough play!
My great grandson LOVED this monster truck. Independent suspension, great graphics and big in size.
My son absolutely loved playing with this monster truck. He has smaller ones and has never seen a monster truck this big, his face just lit up when he saw it. I love that no matter how many times he throws it off the couch or slams it, the monster truck stays in one piece. It's pretty durable and love that it withstands all the dings and bangs that this boy puts it through. Overall great toy but I think if maybe it made some sort of sound affect it would have taken it over the top
This toy is so fun for little hands. My daughter loves this more then my son! She races up and down the hall with it, and makes it bounce. My son likes to put toys inside it and dump them out. All in all they enjoy it!
My boys loooove this thing!! This has been played with daily since we got it, and it's holding up well. My guys are thrilled with how big it is. The only thing I dislike about it is the skulls all over it. Yes, I know it's "Grave Digger", so I get it, but I think it looks a little grossly over-decorated with them. They are just stickers so if I wanted to, I can remove them. It wouldn't keep me from recommending the toy, just perhaps not for the really young little kids. Overall, this monster truck has been a huge hit for our family!
So my son in very interested in little hot wheels cars and big Tonka trucks. Not to mention anything trains. However he just doesn't seem interested in this monster truck. He plays with it but very little. When I ask him why he doesn't want to play with it he says it is because I didn't get two for him to fight. So I can only guess what his three year old mind has on store for the second truck. However the truck seems very well made. It is nice and big for my son to get ahold of. It has great spings/shocks and bounces nice. Seems like it would take whatever comes it's way. Would probably be a great toy for any boy. As long as they like it.