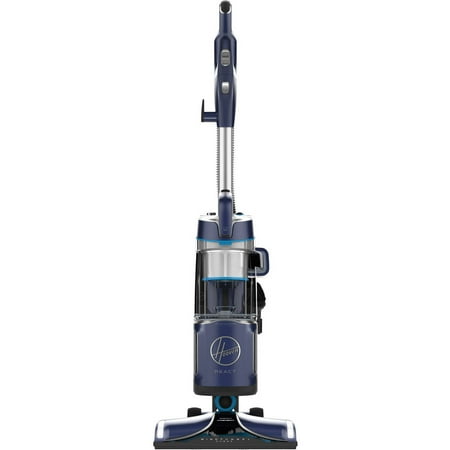 Hoover REACT Powered Reach Lite Upright Vacuum UH73400 combines the power and suction you trust, with intelligent cleaning technologies to deliver The Ultimate Clean.* Automatically. FloorSense Technology utilizes micro-sensors that detect changing floor types and automatically adjusts brush roll speed for the best results on any floor type. Powered Reach Lite features our Powered Lift System which gives you greater access and further cleaning reach without having to move furniture, and is complimented with the tools you need for a whole home clean. Compatibility with the Hoover App allows you to customize your cleaning experience, access tips and tricks and maintain your vacuum for optimized performance. Additionally, the new WindTunnel Surge and Multi-Cyclonic Technology for No Loss of Suction** capture dirt, dust and pet hair. Hoover REACT Powered Reach Lite was created with active families in mind ?now you can clean easier, so you can get back to what matters most. *Hoover REACT machines combine FloorSense Technology with WindTunnel Surge to optimize performance of the machine automatically. ** Per IEC 60312-1 1st Edition, Clause 5.9. Test results within accepted variability tolerance of 5%.
Hoover REACT Powered Reach Lite Upright Vacuum, UH73400
FloorSense Technology automaticallyreacts to your floor type for The Ultimate Clean*
Powered Lift System -canisterdetaches to extend cleaning reach without moving furniture
WindTunnel Surge captures dirt, dustand pet hair
Multi-Cyclonic Technology cleanswith No Loss of Suction**
Compatible with the HooverApp
Sealed Allergen System captures andcontains 99% of dust and allergens***
Hoover Tested for Paws & Clawsbecause you love your pets, not the hair they leave behind.
Advanced swivel steering designmakes it easy to maneuver around and under furniture
LED Headlights make it impossiblefor dirt to hide
Large capacity, easy empty dirtcup
25 ft. power cord
5 Year LimitedWarranty
Multipurpose Tools – The tools youneed for a whole home clean
Crevice Tool – Great for cleaning intight spaces and hard-to-clean corners
Dusting Brush – Delicate bristlesgently clean fine dust
Turbo Tool – Deep clean furniture,stairs, upholstery and more
reviews
I receive this a few days ago and I couldn't be more please. I'm 100% satisfied. It works AMAZING on all carpets and floor types. Great attachments and moves smoothly making everyday cleaning a breeze.
The Dirt Devil Power Reach Multi-Cyclonic Pet Vacuum is a compact upright with no loss of suction that makes picking up pet hair a breeze. Perfect for pet lovers, it comes with Electrostati