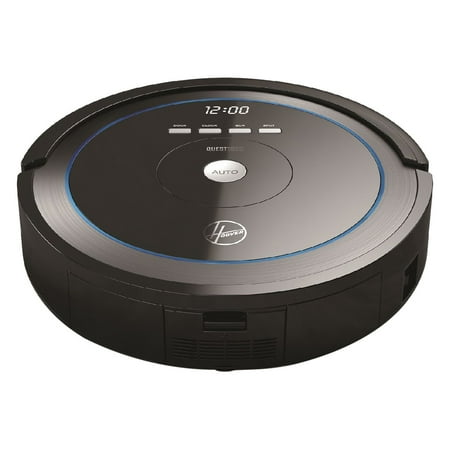 With Local Wi-Fi connectivity, the Hoover App, and our Tri-Clean System, the Quest 1000 offers the optimal smart-cleaning experience. The QuestNav 3.0 Technology intelligently maps your home, and our advanced Lithium-Ion Technology helps ensures a 120-minute runtime, making this our most efficient robot cleaner.
Hoover App – Compatible with the Hoover App, which allows you to customize your cleaning experience and maintain your vacuum for optimal performance
QuestNav 3.0 Technology – Systematically navigates around your home with laser mapping
Tri-Clean System – Cleans hard floor surfaces, small area rugs, and low pile carpet.
Cliff Sensor – Detects stairs and drop-offs to avoid falling off edges
Automatic Recharging – Automatically returns to the docking station to recharge
Extended Runtime -Cleans for 120 minutes before needing a recharge
1-Year Limited Warranty
reviews
I've had the quest 1000 for about 2 weeks and have used it two times. The vacuum does a good job of picking up dog hair and decent sized direct/objects. I have a 750 sq ft apartment that is pretty open and not a lot of furniture. Does a good job moving around the furntiture and going under it. The size is just right to fit under chairs etc.. So far the vacuum has had issues finding it's docking station when done or after getting stuck and shutting down. The vacuum got stuck three times in a row at my door to the patio, doesn't seem like it's that hard to move around but some how it doesn't reverse out? First pictures**. The vacuum also left hair at the edge of the floor that meets my carpet, it normally makes a straight run past the rug on the hardwood and gets it but that's one potential problem area. The rug also easily gets stuck on bathroom rugs. The last item I would suggest to try and update is the size of the dirt canister. Would be helpful with a house w/a pet. I'm sure once technology improves you can reduce the size of the motor etc inside to create more space. Overall a good product and would recommend but people should know it won't completely replace your regular vacuum so make sure to buy a regular Hoover!
Pros: 1. Scans and creates a map of the area 2. If it get stuck due to clutters or tangles, untangle then just push auto button, it re-scans to detect its location, it will continue to clean areas it has not cleaned yet. 3. Descent cleaning abilities. 4. Can really and would like to get into tight horizontal or vertical spaces. 5. If you have a large area and 1.5 hours cleaning is not enough it will go home, get a full charge and continue cleaning 3 hours later. 6. Likes to use or go patterned cleaning method. Cons: 1. It gets lost on dark areas, so I learned not to let it run during the evening. 2. It sometimes gets confused on dark patterned area rugs where parallel method of going over an area would be erratic. It will eventually find its way out under the table after spending 2-3x the time it should when a patterned cleaning is done. 3. Side brush might be better if has a bit of stiffness.
First I bought the Quest 700 and was quite disappointed…..but Hoover made up for this, they were quite apologetic and offered to send me the Quest 1000 instead, to my delight.The Quest 1000 works much better: it has good suction, is quieter and doesn't get stuck as often, although it still tries to vacuum my long furry rug, and actually got so caught in the long fibers that it destroyed the spin brush….but that was my fault for not pulling up that rug knowing it would be determined to try to clean it. (Other robot vacs were able to ignore this rug as being too thick/high.) This robot does not crash into walls and furniture like other models, but rather stops just short of it due to some kind of sensor. It doesn't bump into my little dog, either, not that he cares. It still has a difficult time finding its base, though, and I have to go pick it up and place it in front of the docking station. I find this annoying, there's no point in having a robot that needs so much monitoring and docking should be a simple task. Now, for the app I was so excited about: it isn't terribly user friendly, and unless I'm a tech idiot(I am NOT), it doesn't seem to do much of anything beyond being a remote control. I can program cleaning from the app or turn it on for a spontaneous cleaning, but it doesn't give me any special or interesting features beyond that. I would have thought that once I mapped the entire house it would remember that map. It doesn't, has to go through the same process each time and remap the house. There should be some sort of instructions as to what mapping means to the machine, which seems to be that it uses the technology to 'map' or remember the whole house out so it doesn't miss anything….except it entirely missed two rooms in my 1600sf open concept home. It also seems to favor small areas like my laundry room and stay there an excessively long time while ignoring the bigger rooms that need time to cover. There is a "Focus" feature that does not appear to have any use whatsoever, unless it's to tell you where it is…? I would have thought I could use that to vacuum one area (call the vacuum to clean up a spill, for instance) but it does nothing and even if it did, the "map" of the house is so inaccurate that I wouldn't know where to direct it! The help button just takes you to the website which gives no help at all. So, in conclusion, I do like this new vac but the app could be and do so much more. It was a good idea that was not brought to full fruition.
I received the Hoover Quest 1000 a couple of months ago and I absolutely LOVE it! It makes cleaning my floors so much easier without sacrificing quality. I am able to clean the floors while doing laundry or other tasks around the house. The Hoover Quest 1000 is quiet and effective, leaving no spot on the floor left unclean. It automatically adjusts to floor types in our home (hardwood, ceramic tile and carpet) with ease and is just as effective on each surface. This is definitely. Must have product for our family due to our busy schedules. By downloading the app I can set our Hoover Quest 1000 to clean from anywhere and come home to clean floors. It's very innovative and I absolutely recommend the Hoover Quest 1000 to everyone!
We have a busy home with 4 kids, 3 adults and a cat. Some days we are quite busy and just don't get around to vacuuming the floors. The Hoover Quest 1000 made it super easy to set it up to either vacuum when we were out running errands or when we went to bed. It was simple to set up the app on my phone where I could schedule the run times or run anytime I needed to add in an extra clean time. It's got a pretty good size cleaning surface and cleans close to walls and furniture. It was able to clean my living area, dining, kitchen and hall (my downstairs) before it needed to redock and charge. It did pick up crumbs big and small, but if you have a lot of larger crumbs, like spilt cereal, you may need to empty collection bin mid clean…otherwise it holds a good amount of dust and dirt.
I had high hopes for this product. The app would not work consistently and the product only picked up dust not much else. Really didn't seem powerful enough to do anything other than look cool.