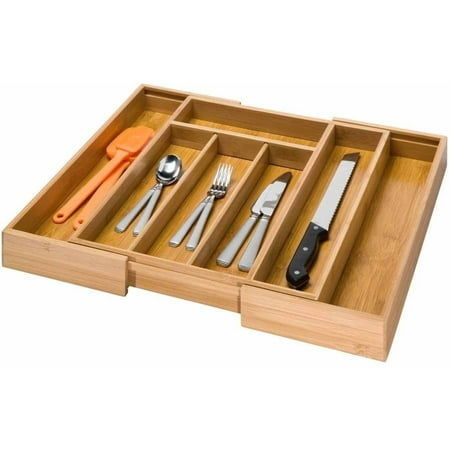 The contemporary style of this Honey-Can-Do Bamboo Expandable Cutlery Tray will fit well with any kitchen decor. It features solid bamboo with an exterior bamboo veneer, making it hardy and durable. This also ensures that it is gentle on utensils. This bamboo cutlery tray will not scratch or leave marks on your silverware, so you can trust it with even your precious silver. It provides seven separate compartments, helping you to keep each type of utensil neatly compartmentalized. The tray fits most standard sized kitchen and pantry drawers. Use this kitchen cutlery tray to ensure that your items are stored neatly and elegantly where they belong.
Honey-Can-Do Bamboo Expandable Cutlery Tray:
Contemporary style
Bamboo with bamboo veneer
Gentle on utensils and will not scratch or leave marks on your silverware
Kitchen cutlery tray fits most standard sized kitchen drawers
Home organization made easy
Limited lifetime warranty
Dimensions: 23″L x 17″W x 2.30″H
Model# KCH-01079
reviews
Just what we needed to organize our drawer. Great quality
I brought this product for my home to match another one I had purchased from Crate and Barrel. Had I known that it was the same product I would have just went to Walmart.
This one is fantastic. It is very large and it can fit in a large draw. It does a very good job holding my silverware and my big utensils.
I bought this item as a gift and the person I got it for loves using it. She said she had a large drawer so the expanded organizor suits her needs just fine. She said she definitely would recommend it to others.
Excellent quality and it fits my super large drawers perfectly. Makes it look custom.
Well made and nice size compartments. Works for large drawers.
When I went to pick up the item, it looked like a corner was loose. I took it out of the plastic wrapping at the pickup counter and it actually fell into pieces. The wrapping was the only thing holding it together. I just got my money back and left.