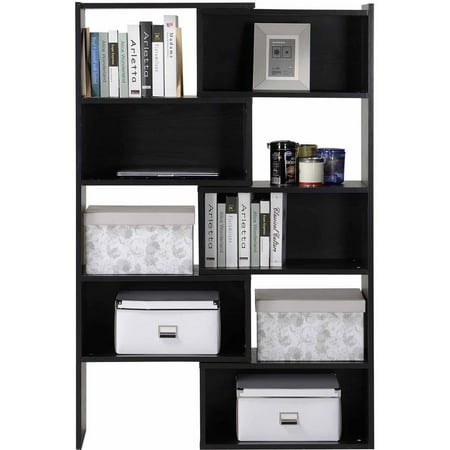 Expand your storage options with the Homestar Flexible and Expandable Shelving Console. Showcasing a clean build and elegant styling, it blends with different classic and contemporary styles. This Homestar shelving console has parts that lock like a puzzle, so you can compress or expand it to suit your changing needs. It gives you a nice place to store books, toys and everyday household objects. You can also use it to show off your pictures and knickknack. Add creative functional style to your space with this Homestar flexible and expandable shelving console.
Homestar Flexible and Expandable Shelving Console:
Designed to maximize storage in any room of the home
Sleek lines for a contemporary style
This Homestar shelving console can be compressed, extended or placed into corner to meet all your needs
Place 2 stands side by side for an elongated look
Endless possibilities to better utilize your space
Available in 3 colors: reclaimed wood, espresso and white
Space for displaying framed photographs, knick-knacks and other
reviews
It was very easy to set up! Looks amazing!
The item arrived on time. It is sturdy. The black squares they use to keep the shelves from rubbing do not stay on real well. A little more stickiness would be great. The shelf took a bit of time to get together. When trying to maneuver it to the angle position, it was a little tricky. The shelves would come apart too easily. I also thought it would be a little taller but it looks nice. It works for what we needed and I have had compliments on it.
I have been looking for something for a corner for a long time, this is a little smaller then I thought but great and versatile if I ever want to move it into a standard book shelf:)
I received this Homestar Flexable and Expandable Shelving Console. I really like this wall unit! They say its a contempary style but I am traditional style and it goes well with my decor. I really like that you can have a single book case with five shelves or you can expand it and have double the space with ten shelves. And again to change it up you can turn one side in and have an L shaped wall unit. How cool is that!!!! It says it takes two people to put it together. I put it together by myself but I would definately use two people though to lift, expand and turn the wall unit. It is hard to do it by yourself and I had the bottom shorter than the top so hence reason for having two people to expand the wall unit. I didn't like that the stickies to cover the screws were all creased and wrinkles so they don't lay flat that well and the felt stickies to help the sliding didn't stick to the shelf very well. Actually four of them had no stick at all. Each shelf is 21.5 inches wide x 10 inches in height and 12 inches deep. It is all open storage so you can display photo's, knick knacks and expecially all your books. I would definately recommend this Homestar Flexable and Expandable Shelving Console.
The Homestar Flexible and Expandable Shelving Console is a perfect addition to my living room. I have been looking to fill wall space and had the opportunity to do so from the Spark Reviewer program. I received the Espresso color and was impressed with the durability and quality of this product. The item took about two hours to assemble, as a one person job. The instructions were moderate to follow. A great feature are two straps that make the product easy to maneuver as well as keep the console stable. My favorite feature is how the console can be expanded, or compressed to fit into any corner or lengthen the wall. There were no complications in sliding the console to make it smaller or larger. This is perfect for a condo, apartment, or any extra wall space to fill. It can easily be stored as it is so versatile. This is a great product for the price and adds a contemporary style to any room.
Console arrived in great condition. Box was pretty heavy though. I needed my husband's help to get it to my daughter's bedroom downstairs. Taking every piece out of the box did take some time (around 15 minutes). All pieces were adequately labeled and in good condition. Materials seem sturdy. From start to finish, this console took me about 2 hours to assemble by myself. Instructions were easy to follow and no parts were missing. Instruction booklet also gives weight limit for each shelf which I found helpful. I did need extra help when I completed the assembly to lift console off floor and position where my daughter wanted it. Make sure to secure it into the wall as this console is quite heavy when finished and could tip over. We went with the two column look, but this can easily be adjusted to the corner look (just a quick lift and turn!). I love the dark finish and the different insets of the shelving. As this console went into my daughter's room, I let her place what she wanted in the shelves. I am looking to purchase some storage boxes to straighten the look more. This piece looks great! I am going to purchase one to go into my son's bedroom too. A definite recommendation!
Pros: The packaging of the bookshelf was great and adequately protected all of the pieces. It was pretty easy to set up and all the parts were clearly labeled. It still took a little time to fully assemble, but it wasn't bad. Also, be sure to assemble it in the room that it will stay in. The console is extremely heavy, once assembled, and difficult to move. Additionally, it doesn't take up much room and can be expanded, rotated, angled, etc. That is a fantastic feature! The material is not real wood. It's cheap, particle board made to look like wood; therefore, you have to remember not to put too much pressure on it when putting it together. At times, it felt like it could easily fall apart. Nevertheless, the black finish looks so nice that you can't tell. It really blends in nicely with the other furniture that I have in the kids' room. The height is perfect for storing books, DVDs, toys, etc. Cons: It is really not secure and balanced. It seemed like it would easily tip over on the carpeted floor. We added some weight to it, but I was still concerned. Using the straps to secure it to the wall probably would prevent that from happening. However, I don't want holes in the wall, and I have a tendency to relocate and move around our furniture. Therefore, we ended up lying it flat on the floor and using it as cubbies for the children's' toys. Overall, this is a very nice piece of furniture. It is not wood, but you cannot tell just by looking at it. However, the fact that you need to secure it with straps to the wall is a huge drawback, and I would not recommend this console to anyone.