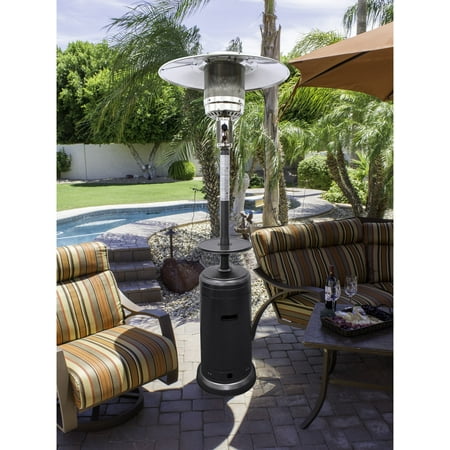 When the cool evenings come, you don't have to stop your outdoor activity thanks to this Hiland Hammered Bronze Patio Heater. Not only does it radiate warmth in a 12′ diameter circle, it also provides you with an extra table for that area. This outdoor propane heater is all that you need to keep entertaining outdoors all year round. It is tall and streamlined and has a two-toned stainless steel and black finish that helps enhance your backyard decor. The steel construction of the Hiland Hammered Bronze Patio Heater helps ensures that it is durable as well as functional. It projects 41,000 BTUs of heat in a circle to keep you and your friends and family warm and cozy. It also comes with wheels so that you can easily move it from place to place or put it away when it's not being used.
Hiland Hammered Bronze Patio Heater with Table:
10′ – 12′ diameter of warmth
Hiland 87″ tall patio heater
Hammered bronze powder coated finish
Wheels for easy mobility
Gas type: propane, butane
Heat output: 41,000 BTUs
Model# HLDS01-W-CG
Patio heater with table makes an outstanding accessory for BBqs, family gatherings and more
Streamlined design
Made of steel
reviews
The heater works great. Assembly was minimal but it arrived dented and banged up in a few spots. Didn't want the hassle of returning it and getting another in the same or worse shape so just kept it. Needs better packaging if ordered on line.
The item arrived broken. I didn't put it together or use it. The main housing unit is made of very thin metal.
Heater works perfect, the finish on this particular one is way better than expected. And for under $100, it couldn't be better.
Based on its price, I thought i am not gonna like these heaters. However, I was impressed with how well they worked during a very cold Christmas night party in the patio area. They are well worth the money, I recommend them to everuone. If there is one thing that did'nt appeal to me it was the bottom metal part housing the gas tank, it is a bit too thin but have nothing to do with the functionality.
Purchase for my parents anniversary gift – they absolutely love it, and now enjoy sitting outside when it is cold
The only reason I gave this product 4 stars is because it was dented when it came in. Other than that, this keeps my family and I very warm. I just hated that it was too tall to put on our porch, but that is ok.
Delivery was incredibly fast and putting it together was very easy. It looks so good! It's easy to move around and easy to work!
It came with dents and missing screws. The clasp was broken. I gave it one star because it came pretty quickly but the actual heater was damaged.