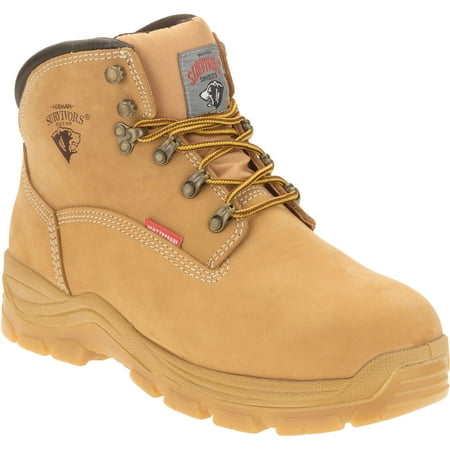 Stay dry and comfortable on the job site and elsewhere with these men's work boots from Herman Survivor. Featuring a handsome and waterproof suede outer, these boots have an 6-inch shaft and a steel toe to protect your feet in hazardous conditions. The lace-up front provides a secure fit, while the padded tongue, shaft and footbed offer all-day comfort. The suede heel loop keeps the boots manageable, and large tread patterns on the sole ensure you won't be losing your footing in slippery terrain. These steel-toe boots are a great choice for outdoor professionals.
Herman Survivor Men's Breaker Steel Toe Waterproof 6″ Work Boot:
89.3% leather, 10.7% PU upper
50% PU, 50% rubber outsole
Work boots
Steel toe
6″ shaft
Waterproof suede outer
Padded tongue, shaft and footbed
Lace-up design with metal eyelets
Suede heel loop
Large tread patterns on sole
Available in wheat
Use a soft bristle brush to remove any surface dirt or dust from the shoe and use cotton to wipe
reviews
After spending many years wearing steel toed boots this shoe is the most comfortable and best looking of the lot. I would and have recommended it to many of my coworkers.
These boots have good padding and are very comfortable. The waterproof feature makes them exceptional. The tread is great and gives good traction. Would recommend them to anyone who needs a low cut steel toe boot.
I have spent a lot of time in work boots from 20$$ boots up to 250$$ work boots and i got this pair as just a quick extra. But now i wear them more then the 210$$ hytest work boots i have. This boot is very comfortable and is actually waterproof. I stand in 1-4 inch of water for more then 6 hours a day and my feet are still dry. It is great!! The tread is very nice and I do not slip very often. Yes the boots squeak and the laces need replaced but all in all this boot is the best boot for the price i have ever had!! I will be getting this boot again without a doubt.
Don't let the brand or the price fool you, These boots are very good. I am 6'4 and wear a size 13 shoe and my feet hurt after doing a 12 hour shift in most boots but not these.
These fit great, I was surprised by how comfortable the sole was, nice and thick. Had them for about a month and they started squeaking. They were so loud even on concrete. Finally broke down and bought something else.
89.3% UPPER LEATHER;10.7% UPPER PU;50% OUTSOLE PU;50% OUTSOLE RUBBER Use a soft bristle brush to remove any surface dirt or dust from the shoe and use cotton to wipe