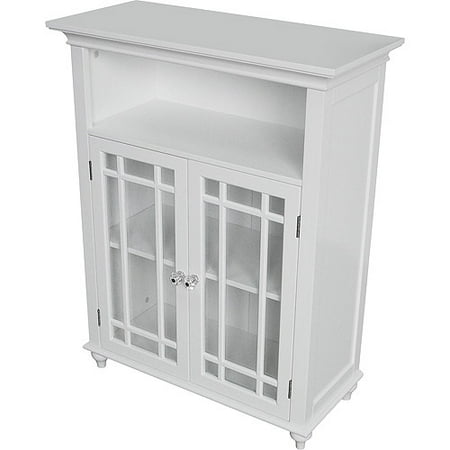 Transform the look of your living room by furnishing it with this white Heritage Floor Cabinet. This double door cabinet blends well with the decor of many rooms. These glass door cabinets have doors on the bottom and an open shelf at the top, which are both are generously sized to keep all your items. Made from sturdy wood, the white Heritage Floor Cabinet will provide reliable performance for years. The glass doors of this double door cabinet allow you to view the contents within. Store and display items and add a traditional furniture piece to your home with this white Heritage Floor Cabinet.
Heritage Floor Cabinet, White:
Made of sturdy MDF
Glass doors with white wooden trim
1 open, fixed shelf and 1 hidden, adjustable shelf
Warnings:
California Proposition 65 Warning: PROP 65 WARNING: Some furniture products can expose you to chemicals known to the State of California to cause cancer or birth defects or other reproductive harm. Please check the on-product label for warning information.
reviews
Beautiful cabinet.. looks just like the picture.. easy to put together… I purchased for my elderly mom to place I her bathroom.. she has a small bathroom…but this fit perfectly.. I didn't add the legs .. because I wanted it to sit flat on the floor.. I put together in about 30 min! All I needed was a star screw driver… great buy!
This was fairly easy to put together. Only thing I wish is that it was more stable. It's pretty wobbly. Overall, I am pretty satisfied with it for the price I paid.
I bought this cabinet for a corner of my bedroom that was too small for a nightstand and it fit perfectly! Building it was pretty easy and took me about an hour by myself. The only part that I would consider "hard" would be using the wood glue, and that was more annoying than anything. Nevertheless, it looks great and I would definitely recommend.
I love the cabinet. I would have given it 5 stars but it did arrive a little bit damaged. I believe it was done during shipping. The box and styrofoam were damaged. It was fairly easy to assemble. You do need a screwdriver and a little hammer.
It was fairly easy to put together even if it stated it would require two people. It took me a little bit longer probably but still pretty simple as long as you follow the directions. Seems pretty solid as well.
I am a 72 year old woman and was able to put this cabinet together by myself. I wanted to use it to hold my tv cable box and thought I was going to have to it a hole in the back to run the cables, but the "backing" comes separate for the top shelf and the closed cabinet which worked out perfectly. I'm thrilled with the cabinet.
This was the perfect addition to my sunroom. It took about an hour to assemble. The only part you need another person's help with is when attaching the doors. All parts were there and assembled easy. Perfect for displaying home décor accents. I am very pleased.
One of the peg holes was drilled too deep and the peg very easily went all the way through the opposite. The hardware doesn't line up properly and it therefore doesn't hold together like it is supposed to. Very cheaply made for the price. I do not recommend anyone purchase this item. I was extremely disappointed.