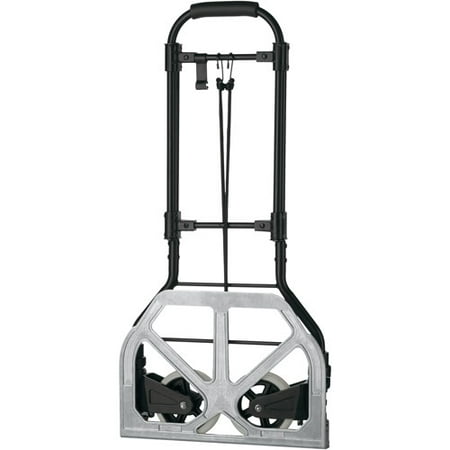 Say goodbye to hauling lots of bags and looking awkward while traveling with this Heavy-Duty Folding Luggage Cart. This product can hold up to 150 pounds of weight. This rolling luggage cart has a two-position, contoured comfort handle that can be adjusted to 35.5 inches or 39 inches high to accommodate taller or shorter users. The wheels also automatically swing out when you lower or raise the platform. When not in use, it can be folded flat so that it can fit most overhead compartments on an airplane, bus or shuttle. This heavy-duty luggage cart has smooth-rolling wheels and includes a strong bungee cord to keep your cargo in place as you move. Heavy-Duty Folding Luggage Cart:
Folding luggage cart holds up to 150 lbs of luggage
Two-position contoured comfort handle adjusts to 35-1/2″ or 39″ high for taller or shorter users
Rolling luggage cart folds flat to fit into most overhead compartments in busses and airplanes
Wheels automatically swing out and fold up when platform is lowered or raised
Luggage cart folds to 2-1/4″ to store
Comes with smooth-rolling 4-3/4″ diameter wheels
Heavy-duty luggage cart includes a sturdy bungee cord to secure cargo
Model: TS-33HDC
Convenient way to bring all your bags as you travel
reviews
Folds up to a very compact size and sturdily built for heavy luggage…….
Recent purchase. I've used this to lug a Walmart order up my stairs. And a microwave oven upstairs and downstairs for repair. It's a handy gadget and seems to be built well. Should have bought earlier.
A little hard to fold down platform, but just a little lithium grease cured that. Great deal really underpriced for what you get. I highly recommend this product and have already showed to family members.
I was impressed with the over all quality. 32.94 and I see no reason it would not last forever. two large suitcases were easily handled. The cart can be folded up and stored in the suitcase it was carrying.
It's everything you expect. Compact when folded, easy to extend. The handle is padded and that was a pleasant surprise. If you need a luggage card, this is a must buy.
The wheels on our OLD suitcases had reached the plastic lifetime and were falling apart. This will keep me from having to replace them, because they get too heavy to carry.
I bought this cart for our duffle bag style overnight bags.. it will make it easier to carry inside the long walk to the hotel lobby. It is much more sturdy than I thought, which will make it also useful in the car bringing in heavy groceries, such as cases of soda and large bags of bird seed. It automatically folds up nicely and has bungee cords to secure your bags, etc. I would recommend it.
bottom part does not allow for big boxes.. the length is too short.