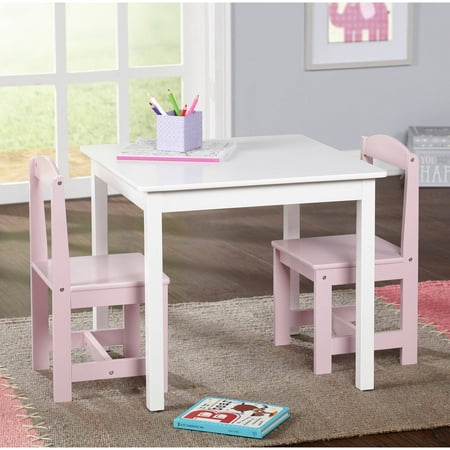 Let your children unleash their imaginations when they sit and play on the Hayden Kids' Table and Chair Set. It is an ideal choice for kids to enjoy arts and crafts projects. They can also read while sitting at this table or play with their favorite toys. Your kids can even host tea parties using this children's table and chair set. It is an adorable piece that has multiple uses. It will blend well in your child's room. The 3-piece table and chair set includes one table and two chairs and is available in various colors. The set is made from MDF and solid wood materials for lasting durability. The Hayden Kids' Table and Chair Set requires some assembly.
Hayden Kids' 3-Piece Table and Chair Set, Multiple Colors:
Set includes: One table and two chairs
Materials: MDF, solid wood
Children's table and chair set is available in various colors
Table dimensions: 23.6″W x 23.6″D x 20″H
Chair dimensions: 11″W x 11.6″D x 22.25″H
Assembly required
reviews
It's beautiful and pretty sturdy but I couldn't get one of the table bolts to even go in and some of the screws on the chairs are a little wobbly, especially in the backs of the chairs.
This was very easy to put together and it's a perfect size! I was worried because my daughter is very tall for her age, so I wasn't sure if her knees would have room. The chairs are low which helped and she fits perfect at the table. Great investment!
It's a nice table and it'll work for my 4 year olds preschool homework table in his room but there were a few knicks on it that I basically just took a brown marker to because I didn't want to deal with the hassle of returning it and hopefully getting one sent back out that didn't have any problems with it.
Hayden 3 piece table and chairs was exactly like I thought it would be. The size is just right for a 3 year old. It was very easy to put together. I had only 1 problem with it. 1 of the chairs was put together wrong by manufacturer. Other than that it was perfect.
We purchased this for our Granddaughters 2nd Birthday. My husband assembled no problem. Perfect size, great quality.
The color is more of a lighter brown than expresso. The holes were too big that i couldnt screw in the legs on one of my chairs, very inconvenient.